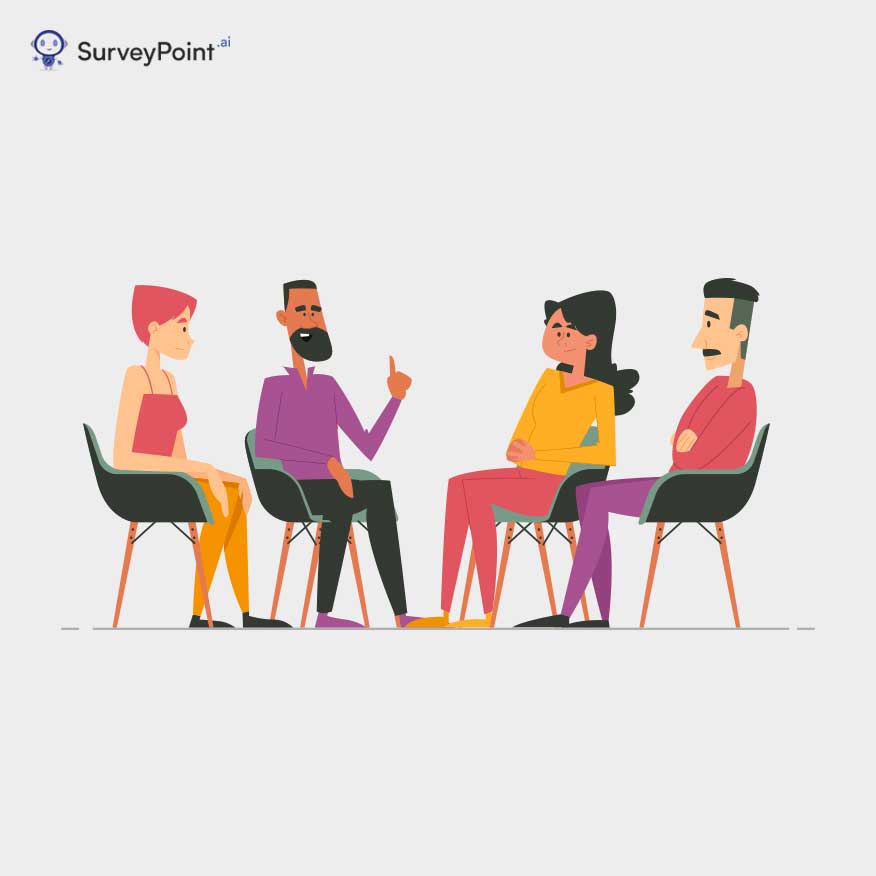 Ready to get the latest insights on your qualitative research? Conducting an online focus group interview is the new way to go. 
The primary function of an online focus group is to form and manage a group over the internet using the software. Online research is a great way to conduct market research, track consumer patterns, and make informed decisions. Most companies that do this prefer to maintain their information online or cannot afford to go offline. 
Getting direct, real-time, and engaging feedback from your customers is what online group interviews are all about. They are easy to conduct and allow you to rehash your product/service. And, if executed right, it can offer several opportunities to diversify into a more heterogeneous audience. 
With that in mind, here is an entire walkthrough of how to create online focus groups, interview them, and why you should be creating one. 
Perks Of Online Focus Groups 
The advantages of creating an online focus group are many. However, for the sake of it, here are some perks that can not be overlooked. 
Geographic Diversity 
Unlike an in-person group, online focus groups have more potential to diversify your target audience range. While an in-person focus group requires the interviewer to be present at a central location, online focus groups are more convenient. 
Time & Cost Saving 
An online focus group will allow you to tap into more insights at a much lower cost. For starters, you won't have to rent a facility or pay for refreshments. Moreover, this is a cost-effective technique too. 
Improved Anonymity 
Depending on your chosen technique, your respondents would be free from any distractions or peer pressure. This will allow you to get actual, more accurate insights. 
The only limitation of online focus groups is that you won't be able to reach people who are not tech-savvy. So, if you are trying to reach out to an audience who are not really pros at tech, this may not be a good choice for your market research. 
RELATED: Know the Market Research Challenges with its Solutions 
Types of Online Focus Groups 
Technically, there are two types of online focus groups. 
Synchronous Groups
These online focus groups are made in real time and conducted via chat or video. A bit similar to the traditional interview, they allow for an easy flow of communication, which builds on each other's comments. 
Asynchronous Groups 
Often called Bulletin Board Focus Groups (BBFGs), these groups are generally research communities. This is a choice when there's a time crunch. They run for a couple of days. 
There is a complete lack of two-way communication between the players. Equally absent is any kind of human moderator. The average activity and interaction level in groups with up to 30 people is lower.
Let's talk a bit more about synchronous groups. Unlike an asynchronous group, these groups rapidly increase due to technological advancements. These online groups are accessible to all company sizes and easier than traditional face-to-face interviews. 
RELATED: Mastering the Art of Online Research: A Comprehensive Guide 
How To Conduct An Online Focus Group Interview? 
Establishing and conducting online focus groups is easier than it seems. Performing an online focus group interview is explained in this step-by-step guide. 
Establish Goals
Like any other research technique, start by establishing research goals. Simply list out what you expect from this research and who is your target audience. 
Connect With Participants 
Several companies can get this need outsourced. However, you must start by providing basic information. The information required might include demographics like age, income, education, and customer behavior. Also, it would help if you determined the availability of the participants and the region you are trying to reach. 
If you're new to online focus groups, limit the number of participants to just 10. However, some might choose to interview just five people as well. The target size would ultimately depend upon your research objectives. 
Choose The Right Technology 
Our best advice; keep it simple. Consider system requirements and choose a platform that is widely used. If you ask them to attend a meeting through your software, they'll more likely be present for the interview. 
You can choose platforms like Google Meet, AppleConnect, Zoom, and GoToMeeting to make things easier. 
Develop A Plan
Before you interview your participants:
Make a set of questions you want to ask.
In short, develop a tight agenda and a list of questions to keep you true to your agenda.
Remember, never go unprepared for the interview. 
Choose The Right Moderator 
A moderator's role is to keep things moving, maintain a stable flow of communication and keep the communication engaging. It is scientifically recommended to appoint two moderators to keep group communications interesting. 
Capture The Insights
The best way to record the responses instantly is to record the meeting. Don't let anything slip through your fingers. You can also rely on transcripts to keep everything organized. 
RELATED: The Best Online Survey Tools Checklist 
Examples of Online Focus Groups 
When you think of it, online focus groups are broadly conducted. Simply put, an example would be a brand conducting an online interview to determine the clients' emotions when a new product/service launches. In this case, if the company uses online focus group software, it can track all real-time insights. 
Another example can be an organization that is conducting market research to improve its quality of services. Switching to interactive groups can be a good deal as the company could gather accurate insights and understand where they are lacking. 
In short, every offline interview that could have been an online interview is an example of an online focus group. 
Best Practices To Manage Right 
You must pick the right tools to conduct a successful online focus group. Here are some of the best practices you can keep in mind: 
Preparation 
Because online focus groups are remote, it is best to plan everything out. Ensure you keep all the details, including concrete and informative objectives. Moreover, from picking the right tool to analyzing the market, ensure you do everything right. 
Sampling
You must gather the right type of participants who would actually represent your entire target audience. Another important thing is sampling. Use the best industry technique to pick the right sample. 
Size
As stated above, it is best not to pick more than 103 participants for an online focus group. In fact, you should be focusing on picking the right participant. 
Moderation
Another thing to ensure is that you pick the right moderator. Moreover, the moderator must also decide how to keep the conversation flowing. 
Market Research With SurveyPoint
Suppose you want to reach more people with your market research. In that case, online surveys are a good alternative to online focus groups. The perfect survey may be created in a matter of minutes with the help of online survey construction tools like SurveyPoint.
You can start with one of several available templates or design your own. In addition, users can monitor their own data and reply in real time with the use of tailored analytics. Give the free version a shot right now! 
Not Sure Where To Begin?
Explore our solutions to discover what is most important to your customers,
clients, and prospects. And best of all – it doesn't take any coding!
Free Trial • No Payment Details Required • Cancel Anytime