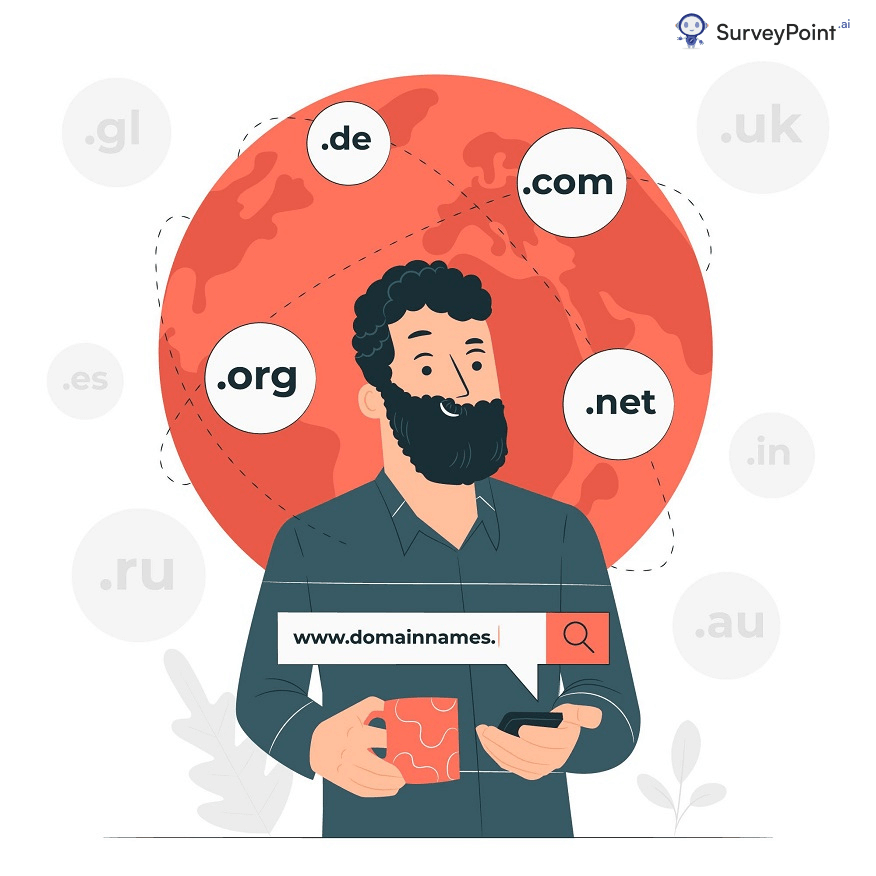 What's in a name? 
It's everything.
It is highly unlikely that Shakespeare was thinking about domain names when he wrote these famous lines. But like everything essential, they are applicable in the modern-day age. 
The domain name for your website will give the audience a glimpse of your brand. So, it is essential to review these steps one must take to ensure healthy traffic on their website. 
Domain Name – Introduction to Your Brand 
A domain name is the first thing the audience will know about the website. So, it is important that you're bang on with it to ensure your target audience checks out your page before anything else. If you don't want to waste a lot of money on purchasing multiple domain names, you should aim for perfection right off the get. 
Yes, pressure. In the wise words of Eminem, you only got one shot, one opportunity, to seize everything you've ever wanted. Would you capture it? Or let it go! 
Check out this guide we've-we've curated for you to make sure that your website ranks like the studious kid in school. 
How to Pick the Perfect Domain Name for Your Company
Choosing a domain name can sometimes be a difficult task. The following are a few tips you can apply:
1. Short and Simple: Selecting a short and concise domain name that is easy to remember might be a good idea. Domain names should be as simple and easy to remember as possible. Hence hyphens and digits should be avoided.
2. Avoid Trademark Violation: It is important to ensure that the domain name you've selected for your website is original. One should conduct reasonable research to ensure that the domain name you've picked does not breach any copyright laws.
3. Use Keywords: Choose a domain name that is related to your brand. This will help with search engine optimization and make it easy for your target audience to discover your website.
4. Make It Memorable: Your domain name should be easy to remember and catchy. It should be unique and help set your website apart from the competition.
5. Protect Your Brand: Consider registering multiple domain extensions such as .com, .net, and .org to protect your brand and prevent competitors from using similar domain names.
6. Get Creative: Brainstorm some creative domain name ideas and pick the one that best fits your website. Consider using a domain name generator to get some inspiration.
ALSO READ: How Do One Page Website Builders Help You? 
How Do You Choose the Best TLD/Domain Name Extension for Your Company?
Implement the following steps while selecting a domain name extension. 
1. Determine the purpose of your domain name. 
2. Consider whether you want a generic or country-specific domain extension. 
3. Investigate the rules and regulations associated with each type of TLD. 
4. Research the availability of the domain name. 
5. Choose a TLD that fits within your budget. 
6. Consider the connotations of the TLD you select. 
7. Take into account the length of the domain name. 
8. Make sure the domain name is easy to remember and spell.
Generally, businesses employ the following extensions with respect to their business. 
.biz : business and commerce activities 
.co : for a company or corporation 
.app : application developers 
.net : internet service providers, digital infrastructure. 
.photography: for photography studios 
One can also make use of location-based extensions that are specific to the location of the business. However, such extensions must be employed if the businesses are actually located in the region.
ALSO READ: Make Your Online Payments Easier With These Venmo Alternatives 
How to Create a List of Domain Names for Your Business?
Implement the following steps that will help with your domain list names:  
1. Find a domain name registrar. One can select from the many companies that offer domain name registration services. For example, GoDaddy, Namecheap, and Name.com.
2. Choose the types of domains you want to register. 
You can select from the generic top-level domains (gTLDs) such as .com, .org, and .net, as well as top-level domains at the country level (ccTLDs) such as .us, .ca, and .uk.
3. Brainstorm potential domain names. Think of names that are related to your business and that are easy to remember.
4. Check the availability of the domain name. Use a domain name search tool to check if the domain names you want are available.
5. Register your domain names. Once you've found the domain names that are available, register them with the domain name registrar of your choice.
6. Set up your domain name's DNS settings. The domain's name server (DNS) information must be modified to point to your chosen web host or email service.
7. Monitor your domain name's expiration date. Make sure to renew your domain names before they expire.
ALSO READ: Decoding Top Trending CX Goals To Be Followed in 2023 
Benefits of a Good Domain Name 
A good domain name entails the following benefits for the website owner: 
Improved brand recognition: A good domain name helps potential customers recognize your brand quickly, helping you establish your business as a reliable and credible source. 
Better SEO: If you choose a keyword-relevant domain name, you can increase your site'ssite's visibility in search engines. Search engines consider domain names when determining search rankings, and having a keyword-rich domain name can boost your rankings. 
Trust and Reputation: A good domain name can also help to build trust and reputation with your customers because it implies that your business is professional and established. 
Easy to Remember: A good domain name is easy to remember, making it easier for customers to find your website and come back for more. 
Professionalism: Having a good domain name also conveys a sense of professionalism to customers, which can help boost your credibility and trustworthiness.
Conclusion 
Domain names play an important role in the success of a website, like the cast of a movie. They make websites more accessible while simultaneously giving an idea of the business and brand.
So they can quickly post content on the website. Domain names are important for website functionality but also for branding, as they are the first impression that potential users have of a website. 
If you want your website to be as successful as possible, you need to pick a domain name that is both memorable and easy to type. 
Not Sure Where To Begin?
Explore our solutions to discover what is most important to your customers,
clients, and prospects. And best of all – it doesn't take any coding!
Free Trial • No Payment Details Required • Cancel Anytime