A customer relationship management survey, or CRM survey, is a tool companies use to find out what customers think about their goods, services, and interactions with the company. CRM polls are essential for finding out how happy customers are, figuring out where problems are, and improving the whole customer experience.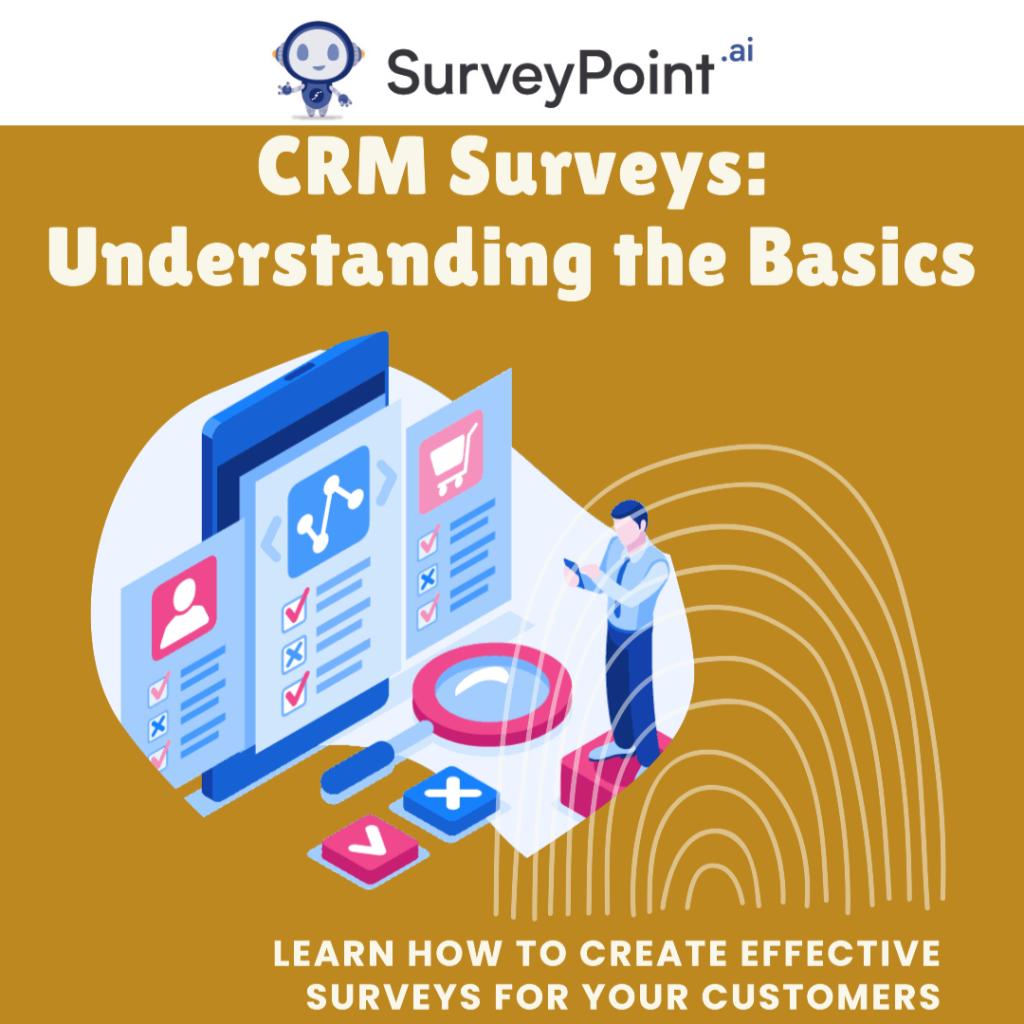 Some of the most essential parts of a CRM study are:
Customer Feedback: CRM surveys, made just for this reason, are used to get customer feedback. This feedback could be about many different things, like the quality of the goods, how well the website works, how the buying process went, and more.
Feedback Channels: CRM polls can be sent through email, web forms, mobile apps, and social media. The channel used will depend on what the target group wants.
Types of Surveys :CRM surveys can ask about customer happiness, Net Promoter Score (NPS), customer experience, and product comments. Each type serves a different purpose and shows other parts of the client relationship.
Customization: Surveys can be made to fit the unique needs of a business and the way it works with clients. It is possible to ask questions leading to answers that help the company reach its goals.
Quantitative and Qualitative Data : CRM surveys often collect both numbers and free-form comments and ideas. This mix of different types of info gives a complete picture of how clients feel.
CRM Surveys Illustrations
The goal of these questions is to help companies learn more about who their leads and customers are :
Profiling CRM Surveys
"Try not to get too close. Henry says that your questions should be about your business, your goods, the quality of your customer service, and how your clients feel about the whole thing. Please don't turn off your customers by asking them personal questions unrelated to the topic. Learning more about your customers is a good idea, but go within a reasonable distance and make them comfortable.
For CRM profiling, the following poll questions are helpful:
What makes it hard for you to talk to people regularly?
How would you divide your business?
Price or quality? Which do you think is more important?
Product Usage CRM Survey Questions
If you know how people use your company's products, you can improve and add to what you have to give. To help answer your questions, you should send the names and pictures of specific products.
Here are some good questions to ask on a CRM survey about how a tool is used:
How many times a week do you use this item?
How likely are you to recommend this product to a friend? If not, why?
What about this item would you change if you could?
Customer Satisfaction CRM Survey
If your service needs to be better for them, you won't be able to keep their business. To get honest and helpful feedback, asking people these questions right after a service experience, such as a sales or support call, is best.
Think about the following questions about customer happiness from a CRM survey:
How would you rate your experience with our company right now?
Do you have anything to say to the customer service agent?
Have we answered every question you had today?
Follow Up Care CRM Surveys
Organizations often lose sales because they need suitable follow-up systems in place. By asking these questions, businesses might need help finding gaps in their sales or marketing processes holding them back.
Here are some questions for follow-up care CRM surveys:
How would you rate the sales process as a whole right now?
Have you ever tried to get in touch with a person but were unable to? When?
Would you be more likely to buy the goods if you had access to a list of frequently asked questions?
Conclusion
CRM surveys are an excellent way for companies to talk to their customers, learn more about them, and make choices that lead to better products, services, and customer interactions.