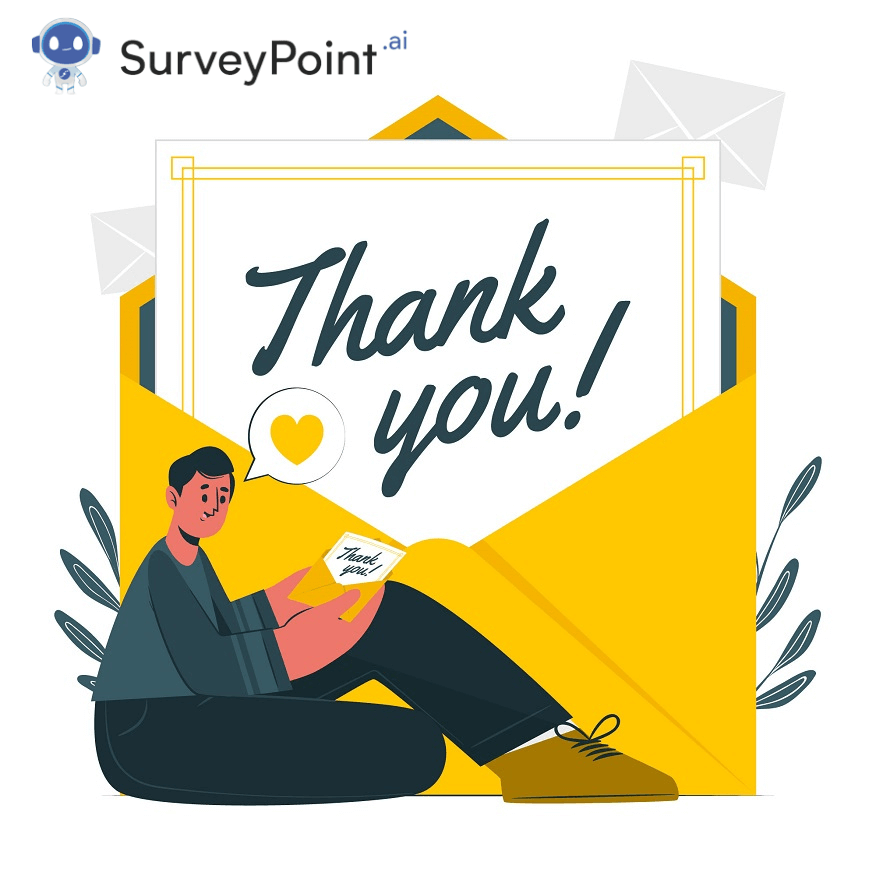 'Thank You' We all have heard it sometimes, and those who express these simple two words of gratitude hold the deepest regards in our hearts.
The case is no different for surveys. Business houses conduct surveys to strengthen their network and scale up operations. Participants spend a great deal of time responding to these surveys. Therefore, it's nice to say thanks occasionally to people who respond to your surveys by sending "thank you messages".
You should think carefully about the thank you page for numerous reasons. Keep reading to learn some tips to craft excellent "thank you" notes.
How To Create A Well-Written Survey Thank You Messages
When you acknowledge your audience at the end of a survey, you leave a good impression. Such a warm gesture builds trust, creates a strong brand value, and improves the respondent's overall experience of taking part in a survey.
A well-designed survey page demands specific fonts, colors, and logos that go well with the brand's identity.
The following tips and tricks should be kept in mind when writing a thank-you note.
1. Keep it short and simple
The template should be kept brief, easy to understand, polite, and kind. No one today has time to read overly complicated and wordy documents. Make sure the piece is well-organized and conveys a sense of total symmetry between the two parties.
2. Keep the audience informed
Don't forget to mention in the "Thank You" note whether there will be a follow-up feedback process. Inform your listeners and keep them abreast of all developments.
3. Quiz Score
The 'Thank You' message template is where you can show the respondent their full quiz score breakdown from the entirety of the survey. Be sure to use enthusiastic language while congratulating them on a well-done job.
4. Contact information
Be sure to include the contact information of any authorized person in the survey whom the participants can contact if they encounter any discrepancies.
Website URL: The Thank You message template can end with a link to important Website URLs linked to your business.
5. Concluding message
In the final section of a "Thank You" message template, you can use a few humble phrases to explain how the respondent's thoughts will help your organization grow.
It's all about making your customers feel valued in this section. It is possible to use empathetic words to communicate effectively in this situation, such as "please," "may," "thank you," etc.
6. Take leverage of software
One last suggestion for enhancing a survey is to employ software for the entire process – creation, distribution, collection, and analysis.
A no-code online form builder, like SurveyPoint, makes creating a survey more efficient and effective. With robust, user-friendly, and abundant entertaining widgets and design components, SurveyPoint can help you spice up your survey.
Whether you wish to use one from the ready-to-use survey templates or create your own from scratch, our platform will allow you to create your own customized survey without any programming knowledge. 
Sample Templates for 'Thank You Messages'
TEMPLATE 1:
Please accept our sincere thanks for completing this survey. Your feedback is a matter of concern to us, as we will be using it to furnish a better customer experience in the future.
The time and effort you contribute to the betterment of our brand are greatly appreciated!
TEMPLATE 2:
Thank you for your responses to this survey. All opinions expressed in these responses will be treated with the utmost discretion. We feel happy about your interest in our company and services.
TEMPLATE 3:
The information gathered from your furnished answers would help us to help better your family and you with improved service quality. At our end, we are committed to maintaining the privacy of your answers.
Best regards, from team XXX
For any further follow-ups, Please Reach out to
[Name], Assistant Manager at [Email/Contact Details]
TEMPLATE 4:
Team XYZ is lucky to have a customer like you. Your information will help us to improve our Customer experience further.
As a reward for this survey, you have won a flat 20% discount on your next purchase from us. Please check about the validity and T&C of this offer at XYZ.Com.
Hope we see you again at our store shortly!
TEMPLATE 5:
Your feedback is appreciated. At XYZ, we are committed to making an inclusive environment. These employment survey answers registered from your end will help us shape future projects better. The same will also help us to remove potential challenges along the way! Thank you once again!
Have more Queries?
Please Contact ABC, HR Manager, at [Email ID]
RELATED: A Guide to the Importance of Probing Questions in Customer Service
Benefits of Using Thank You Messages
There are multiple benefits of including a 'Thank You' message at the end of your survey form. Such a practice helps modern businesses to foot their step firmly in the business arena. From this following section, know-how:
Boost customer loyalty
Gratitudes always touch the mind of a brand's customers. According to modern psychology, 'Thank You' messages can elevate relationships between a brand and its buyers.
Such a gesture of making others feel valuable talks a ton about your company's work ethics, and a discount or offer highlights that your company believes in giving back.
RELATED: Questionnaire On Consumer Awareness: Questions + Tips
Retain respondents for future surveys
By meaningfully creating survey 'Thank You' messages you can retain respondents for future repeat surveys. In order to achieve this goal, you must explain how their survey has helped your business achieve its objectives.
Additionally, if in some way you can enlighten your customers on how your agency has worked based on their inputs, it further enthralls them to take part in future surveys.
Many companies link their other survey options in the 'Thank You' message section. Provides customers with these URLs or directs them to them in another manner. The conversion rate of actually making a viewer take an active part in a second survey is quite good for companies to leave a warm 'Thank You' message at the end of each of their survey.
Getting more people to attend your business event
Many times businesses conduct their surveys from different seminars and events. A survey form shared from this event— which has a Thank You message integrated with a future event's invite link— will motivate your customers to join those future events by informing them beforehand. As a result, your events will gain mass support.
To Wrap Up
The adage that the client is king is true across all sectors. Expressing gratitude to patrons with a heartfelt "Thank You" note demonstrates altruism.
Moreover, it's a tool that can assist companies in greatly expanding their connections and credibility. Effective, pleasant to the customer's feelings, and positively received from their perspective, a thank-you message delivered on a nice note is something that can't be beaten.
Ready To Finetune Your Surveys?
Explore our solutions to collect accurate insights, boost ROI, and retain respondents.
No Payment Details Required • Cancel Anytime