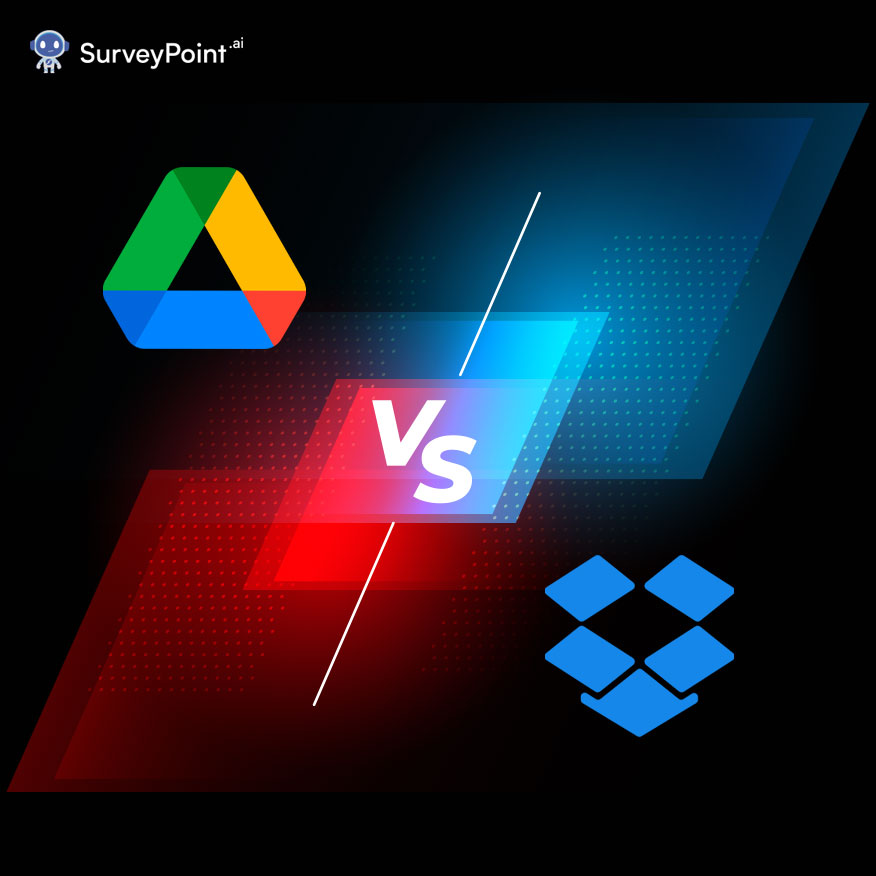 In a neck-to-neck fight between Google Drive vs. Dropbox, it is quite difficult to figure out which one you give the upper hand on.
These two cloud services offer huge storage capacities and cost-free customization choices for storing data. Both services can accommodate data that does not need to meet enterprise standards.
There is a shared set of features between these two cloud archives. Dropbox and Google Drive are popular because they provide cloud-based backup, device-wide synchronization, and file-sharing capabilities.
When individuals see a comparison of two services like Google Drive and Dropbox, they are often taken aback. As it is commonly assumed that they are synonymous.
Understanding how these two techniques work together will provide you with an insider's perspective on how these clouds sync, back up, and share the files despite the different security precautions they employ. 
Competitive Comparision Between Google Drive vs DropBox
Data Encryption
Two-factor authentication and encrypted data transmission are the obvious differences in the competitive analysis of Google Drive vs. Dropbox.
Dropbox uses a better variant of safety protocol namely: Advanced Encryption Standard ( AES) 256-bit encryption. 
This data encryption measure offered by DropBox has been accreditated by the U.S. National Security Agency. The Agency has highlighted the closed chamber security assured in DropBox's security measures.
On the other hand, Google Drive only uses 128-bit encryption of data at rest.
Maintain a Synchronization
Both cloud storage, whether Google Drive or Dropbox, offers synchronization across multiple devices. Dropbox offers block-level sync. Block-level sync enables faster sync speeds, as it only updates edited sections of files in the cloud. The feature doesn't update the entire file. However, Google does not offer this feature.
There's More to It Users can choose which files are kept locally and in the cloud with Dropbox's "smart sync" feature. It requires a file upload to keep operating online. Dropbox's syncing function makes it simple for users to eliminate unnecessary files from their storage systems.
Google Drive has recently implemented something similar. They have merged a third-party app into their system. The time lag in Google Drive is more than in DropBox.
File Sharing 
Both Google Drive and DropBox have good features regarding their file-sharing option. As far as permission to share links is concerned, they are all the same. However, in this comparative study of Google Drive vs DropBox, the latter does edge out the former when it comes to the security associated with file sharing. 
DropBox customers can set passwords so that only a few selected people can access them. The customers can also link expiration dates to these links. After the link expires, the files attached to them won't be available for sharing.
ALSO READ: Rated Best Spreadsheet Software To Achieve Your Goals 
  
File Recovery
Recovering accidentally or wrongly edited files with either Dropbox or Google Drive is possible. With the former, you have 180 days to recover your files. In contrast, you can keep old versions indefinitely with the latest version of Google Drive. 
Versions of slides, sheets, and documents are unlimited in Google Drive. It also can highlight what are the exact changes made to its processing.
Paid Storage
Both Google Drive and DropBox have a certain portion of their cloud meant for paid storage. DropBox has a free space of 2GB, and Google Drive has a free space of 15 GB.
DropBox would charge approximately $12 for 2TB of space or $10 per month if you chose to pay annually. 
With DropBox Smart Sync, you can access your cloud files without saving them to your desktop if you have a paid storage plan. The feature is also compatible with mobile devices. 
Customers can sync the files to their mobile devices by opting for the paid version of DropBox. Access to these files is possible even without an internet connection.
Performance
The performance of both these platforms spares no complaints for customers. The UI of both Google Drive and DropBox are compatible to gel in mobile and desktop. From a layman to a tech-savvy person, anybody can grasp it on the go.
DropBox no longer mimics the web interface but instead has its own design. It is user-friendly, but former customers who were well-versed with DropBox's web version might need help.
The desktop application of Google Drive is more streamlined and can be stored just as a folder. The desktop version of Google has the option of automatically syncing files. Such cross-functional syncing helps a user to navigate the files from almost all platforms.
However, DropBox wears the crown when the performance metrics are studied against the Google Drive vs.Dropbox scale. A customer can upload a 2GB folder in DropBox using 45Mbps internet speed in 16 minutes. In contrast, the same folder took 24 minutes to be uploaded to the Google Drive cloud.
ALSO READ: How Can Survey Rating Scales Create Easy & Engaging Surveys? 
Support
Both the storages DropBox and Google Drive have multiple support options.
DropBox has comprehensive email, live chat, and telephonic support. Google offers the same types of support too. However, getting access to these supports is a tedious and lengthy process.
Getting on a live chat is easier with Dropbox than with Google. As a result, it continues to dominate this genre.
Google Drive vs DropBox: Which is Better?
By a narrow margin in the battle between Google Drive vs. DropBox, the winner is Dropbox. The security protocol infused in the functionality of DropBox edges out Google Drive due to its own merit. 
Also, sharing files, making faster syncing, and giving better service rollouts are better in DropBox for those who collaborate on a significant number of documents.
Learn to work smarter, not harder! 
Explore our solutions that help researchers collect accurate insights, boost ROI, and retain respondents.
Free Trial • No Payment Details Required • Cancel Anytime