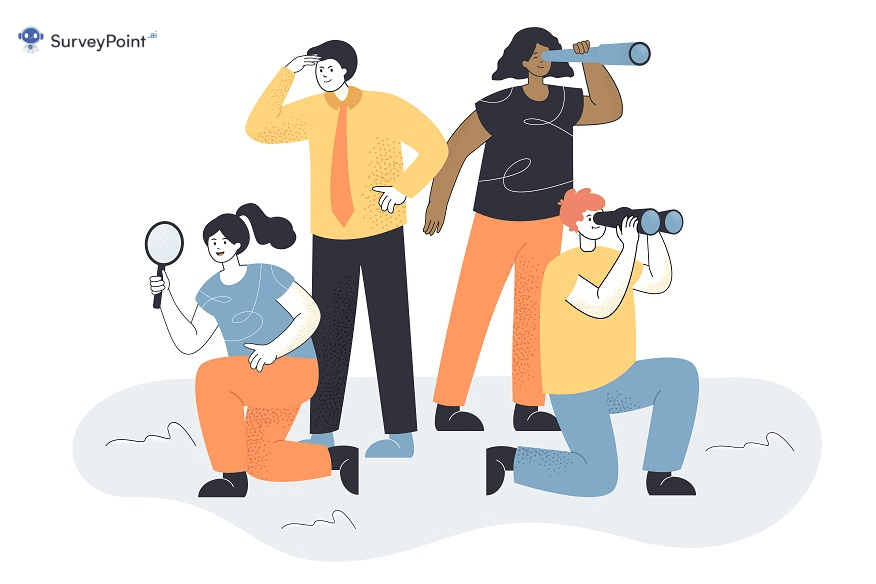 Linktree is indeed the most common creator tool used by leading celebrities from all over the world. However, what if you are looking for better functionality? Or, just other options that go just beyond creating a bio link? If this somewhat applies to you, you might be on the lookout for better Linktree alternatives for business. 
Several other link-in-bio tools may offer some additional features at the same or equal price. 
Here's the list of the coolest Linktree alternatives that can help you optimize your social links and unlock some stunning features. 
A Bit On Linktree 
With over 23 million users worldwide, Linktree came into the picture in 2016. The platform initially just focused on generating links, which gradually expanded to analytics, payment collection and third-party integrations. 
However, Linktree isn't your only option. If you want a better and more convenient link placement and accessibility, check out the following alternatives. 
Best Linktree Alternatives For Business
Beacons 
Perfect for: Content creators, small and large businesses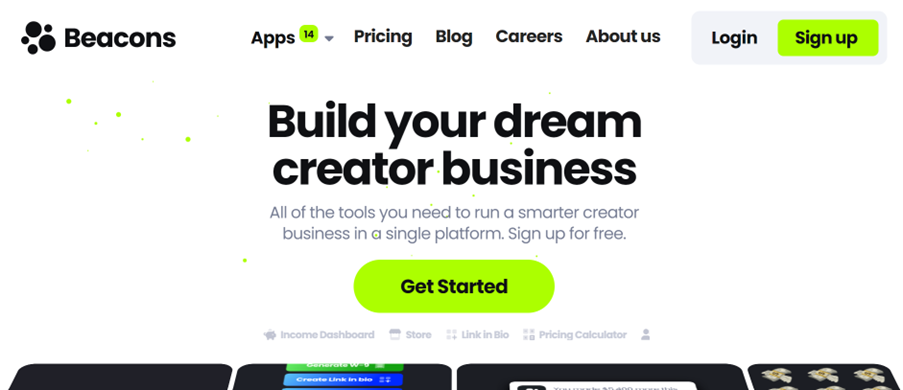 The recently-founded Beacons are perfect for your link-in-bio needs. With many influencers using this platform, Beacons act as a single place where you can create easy links for your socials, websites and even online stores. 
You can also customize the templates, fonts or links by adding a call to action. This helps you make your bio an excellent marketing tool. Moreover, with the ability to track link clicks, it enables you to tailor your content strategy. In short, it helps you put your bs foot forward and track which links are performing better. 
Beacons can help you empower your marketing strategy if you run a small or midsize business. It's simply a tool that enhances your online presence and helps you reach your business goals. 
Pricing: You can access a freemium plan as an individual or pay just $10/month for an entrepreneur plan. 
Pros: 
Ability to create one link for all work.
Can collect contact information 
Referral program available 
Digital storefront
Accepts donations 
Can help you link your TikTok
Koji
Best for: Influencers, creators and small businesses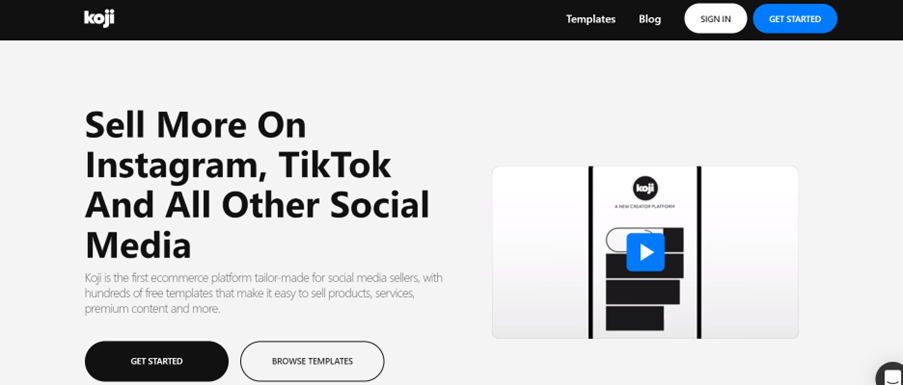 Koji goes way beyond just link-in-bio features. Empowering several creators, the platform is also an eCommerce tool that allows them to create passive income streams, grow their brand and attract more audience. 
For instance, if you plan to sell your NFT, you can log in to Koji and start the process without linking your account to OpenSea. In short, entrepreneurs can directly purchase NFTs from Koji. Artists on Koji can also promote their work and monetize their accounts without coding.
You can also browse the platform's mini-apps to market your products. You can also access the platform's creative dashboard that offers additional features like one-tap withdrawals, revenue dashboard, analytics and wallet. 
Just sign up and add mini-apps to your dashboard. You can also generate links to your profile. Your profile can be customized by adding HD backgrounds and branding elements after you have set it up. 
Pricing: Koji is free. However, it charges a small transaction fee when you earn. Some mini-apps might also not be free. 
Pros:
Fully customizable profiles 
Several mini-apps with additional features 
Easy-to-navigate interface 
Cons: 
Feedlink 
Best for: Influencers, content creators, and small businesses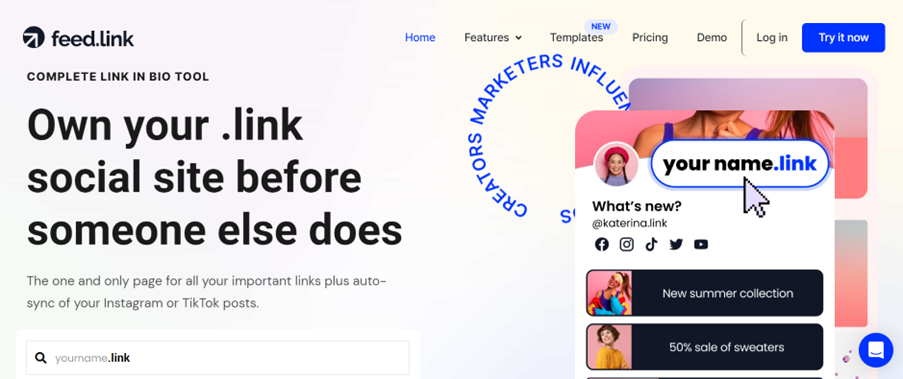 With roots dating back to 2007, Feedlink has helped more than 10,000 users empower their social media marketing strategies. Using this platform, you can create customized links for your Twitter, Facebook or Instagram accounts. 
Feedlink is an excellent option if you are focusing on branding consistency. However, somewhere that platform lacks is its analytical feature. 
The platform only offers basic analytical features, where you can only track the number of clicks on your link. You might also not get greater flexibility when it comes to pricing. 
Pricing: Feedlink offers a free individual user account and a paid business plan account that costs $9/month. 
Pros: 
Customization features available abundantly 
Easy URL/link building 
Affordable  
Cons: 
Limited analytical features 
Milkshake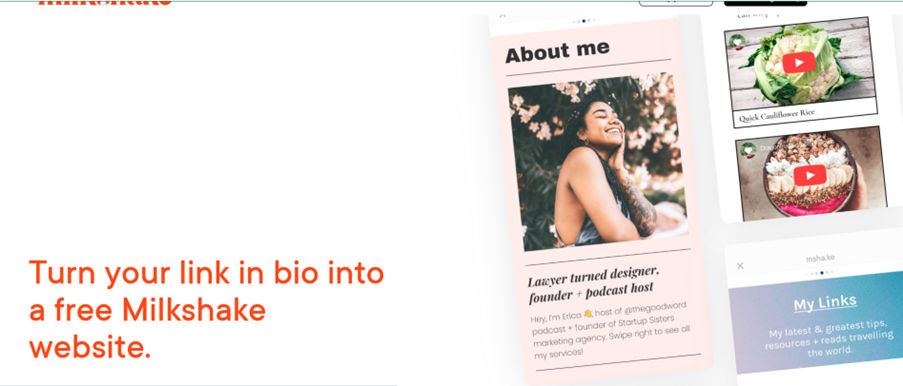 Milkshake is a great option to revamp your Instagram marketing strategies. Used mostly by female freelancers, Milkshake is a website builder tool allowing you to create bio links. You can use this tool to create basic websites, allowing you to share details and brand your company. 
Along with easy-to-use features like drag and drop, Milkshake offers analytical tools to get the latest insights on how well your links perform. 
Overall, it's a great Linktree alternative for business. 
Pricing: 100% Free
Pros: 
Easy drag-and-drop features 
Website building features 
Entirely free  
Tap Bio 
Best for: Large to small businesses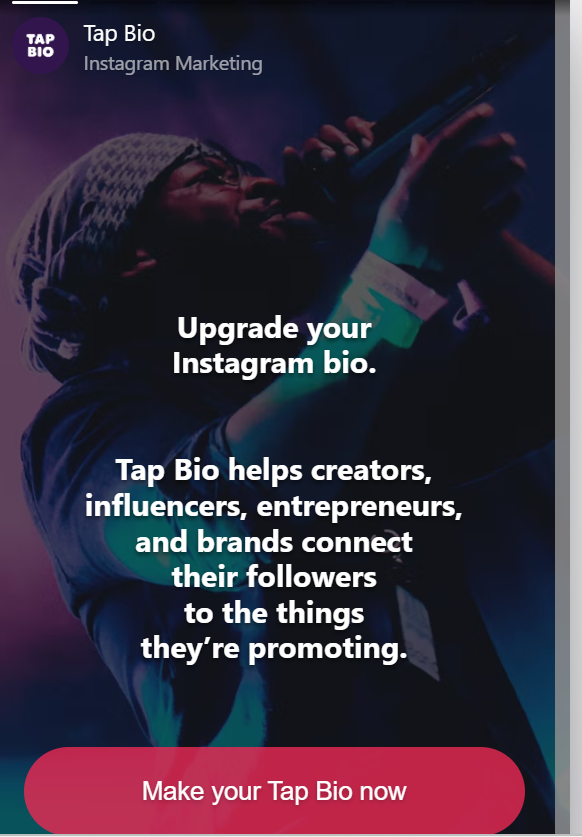 Tap Bio is an excellent Linktree alternative that connects you with your followers through Instagram. Headquartered in California, one of the best features of this tool is its free plan. 
Using this free plan, you can connect your user account with one Instagram account. You will also get access to one profile card and an additional card. 
However, if you would like to tap into insights through analytics, you must purchase the silver or gold plan. For social media, buying premium subscriptions is a good idea as the tool connects your three Instagram accounts with your user account, and you also get access to unlimited profile cards. 
Pricing: It offers a free plan and two paid plans. Silver costs $5/month, and Gold costs $12/month. 
Pros: 
You can access some features through a free account. 
Easy linking of Instagram accounts is available. 
Premium plans are not that expensive. 
Cons: 
It Has a limited user base. 
Campsite.bio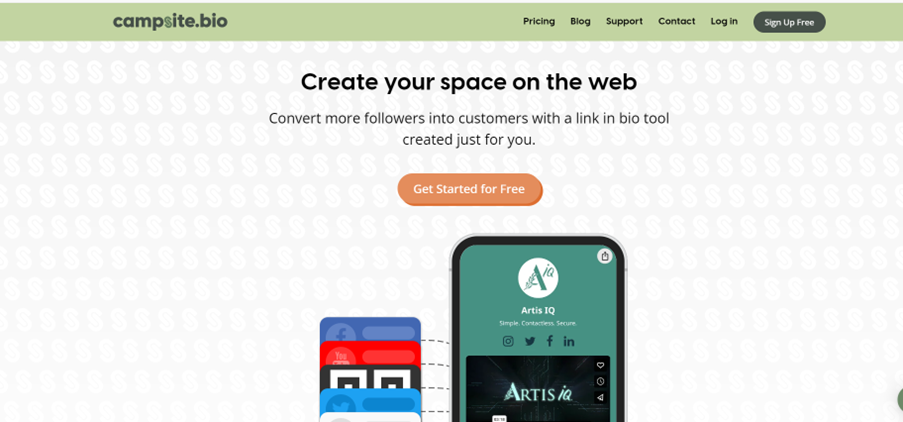 Campsite.bio, a Milwaukee-based company, is one of the easiest tools for links in bios. It may be used on any social platform where you want to post your links, not just Instagram, unlike a service like Tap Bio. 
To make your bio link, you just need to drag & drop the pieces. Also, altering it over time is simple if you need to. In fact, it won't take you more than two minutes to set up your profile. 
While not having many customization choices, its free plan does feature sophisticated theme modification. You'll need to choose one of Campsite's paying plans to highlight links, add a custom background image, schedule links, or hide the company's branding.
Its analytics is another noteworthy characteristic. You can access link clicks and views at no cost when subscribing to its Pro+ plan. Also, you may see the click-through rate and acquire comprehensive information on the location, referrer, device, and events (like opt-in submissions and video views).
Pricing: Besides a free plan, you can access premium features through Pro, which costs $7/month, and Pro+, which costs $24/month. 
Pros: 
It is effortless to navigate. 
It offers several analytical features. 
It comes with a free plan. 
Cons:
The Pro+ plan is a bit on the expensive side. 
Linkin.bio  
Later, one of the top social media management platforms developed Linkin.bio. To increase traffic from TikTok and Instagram, you may utilize it to create a completely personalized link-in-bio web page. In fact, each Instagram post allows you to include up to five links. 
Overall, if you utilize Instagram to sell items, it's one of the greatest options. You can use Linkin.bio Blocks, a newly released tool, to emphasize your greatest content and promotions. 
For instance, you could use it to add buttons to the page's header on Linkin.bio. Afterwards, you can gauge your Instagram ROI with the help of Later's analytics.
Also, if you already have a Shopify site, it's a terrific option because of its interaction with Shopify. To smooth the sales process, connect your store right to your Linked.bio profile in this way.
Pricing: If billed annually, you can buy a premium plan at just $15/month. 
Pros: 
Easy integration with a Shopify website. 
Easy-to-use interface
Affordable plans 
The Takeaway from Linktree Alternatives for Business
So, here are some of the best Linktree alternatives for business. While Linktree is a popular option to create easy links in bios, you can try out these alternatives if you want access to a wide variety of new features.  
Ready To Future-Proof Your Business?  
Sign-up for a FREE account and get a sneak peek into our intuitive survey dashboard panel. 
Free Trial • No Payment Details Required • Cancel Anytime