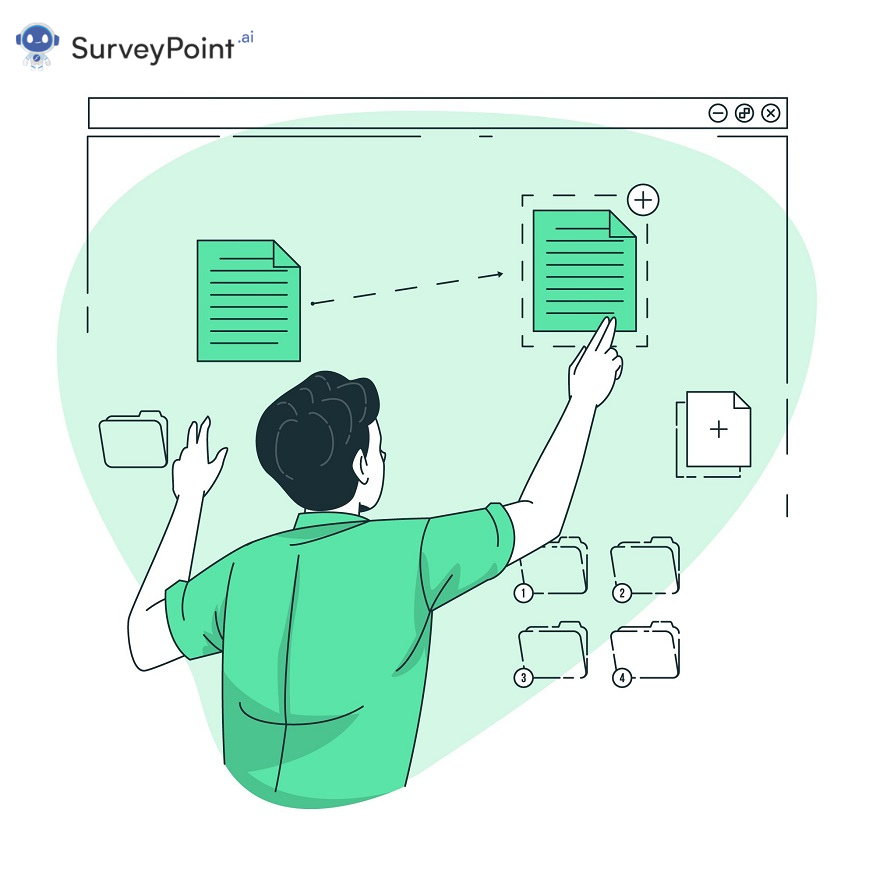 Modern spreadsheets go beyond just tracking your budget. Finding and using the best spreadsheet software can help you manage your data like a pro. Other options can help you with your data tracking besides traditional offline Excel. 
It's true that spreadsheets can get a little complex, especially if you are managing finance. But, if you know how to navigate these softwares, you can easily create compelling visual data presentations for better decision-making. 
So, here's how to find the best spreadsheet software. Read on to explore your options and features to look out for. 
Uses Of A Spreadsheet Software
The spreadsheet was originally designed as a tool for sorting your finances, but it is much more than that. Apart from helping you keep an eye on your budget, it makes businesses more organized. It also allows the employees to track their workflow and meet deadlines on time. 
Here are some uses cases for the best spreadsheet software: 
Accounts 
Keeping track of your expenses with a spreadsheet is a great way to stay organized. But, apart from this, it can also help you implement the entire accounting system in one sheet. You can use these spreadsheets to track invoices and the payment you receive from your customers. 
Spreadsheets can also be used to track employee salaries, including overtime, days off, and sick leaves. 
Analytics 
Once you input your data in your spreadsheet, you can organize it any way you want. And after the organization, you can analyze the data to predict if you are headed toward growth or not. 
Based on how organized your data is, you can make better business decisions and create simulations to see different outcomes. 
Presentations 
Just filling out the cells with numerics can seem complex. Plus, it can get pretty hard to understand as well. However, you can use several graphic abilities to break down complex data into easy-to-comprehend visuals with spreadsheets. 
Project Management 
If you are using an online spreadsheet tool, you can make a centralized system for all your employees. This would help you track your employees' workflow and measure productivity. 
By keeping track of everything, you can also track the project's progress and meet all deadlines on time. Moreover, some spreadsheets also offer conditional formatting and data visuals to represent project status. 
ALSO READ: What Subscription Management Software Should You Use In 2023? 
The Best Spreadsheet Software: Some Options 
Whether you are looking for the best spreadsheet program or not, we have you covered. Here are the most popular options that can help you make your work easier: 
Microsoft Excel  

Since the late 1980s, Excel has dominated the market with its gold standards. The most popular and common option, MS Excel, offers everything from basic accounting features to advanced automation. 
The software is highly versatile and has a broader user base. Moreover, with the Excel app, users can get access to some additional features, thus, making their work easier. 
Excel can also be used to embed spreadsheets on your website or for creating online calculators. 
Google Sheets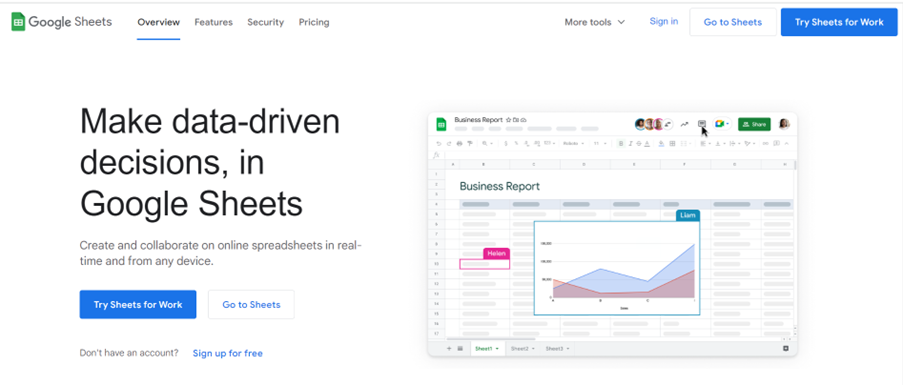 Google spreadsheet is a built-in feature available to all Google account users for free. Being a part of Google Workspace, Sheets can be easily integrated with other Google software like Google Analytics, Google Forms, and even Google Data Studio. 
Besides being entirely free, another best feature of Google Sheets is its online availability. It can be used anywhere, allowing collaboration from different Google Sheet users. 
So, unlike Excel, where users with an MS Office license can only log in, Google Sheets doesn't require you to get any special permit to download the sheet. 
SurveyPoint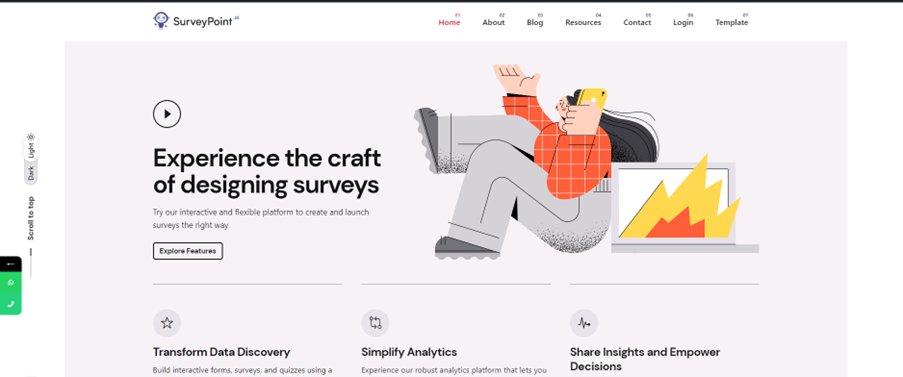 Professionals in the market research industry can use SurveyPoint, spreadsheet software designed explicitly for this purpose. It provides unique features and functionalities not typically available in generic spreadsheet software like Microsoft Excel or Google Sheets. 
Here are some reasons why SurveyPoint could be a good alternative to traditional spreadsheet software:
Data Visualization and Advanced Analytics Tools: Researchers may dive deeper into their data with SurveyPoint's data visualization and advanced analytics capabilities. A few examples of these methods include cross-tabulations and statistical analysis.
Survey-Specific Features: SurveyPoint provides tools that help market researchers conduct surveys. Survey data, for instance, can be quickly imported and exported, and the data can be cleaned and formatted automatically.
Collaboration: SurveyPoint is cloud-based software that enables simple collaboration and data sharing with colleagues and clients, much like Google Sheets. As a result, it is less of a hassle to collaborate on projects and verify that everyone is using the same information.
Airtable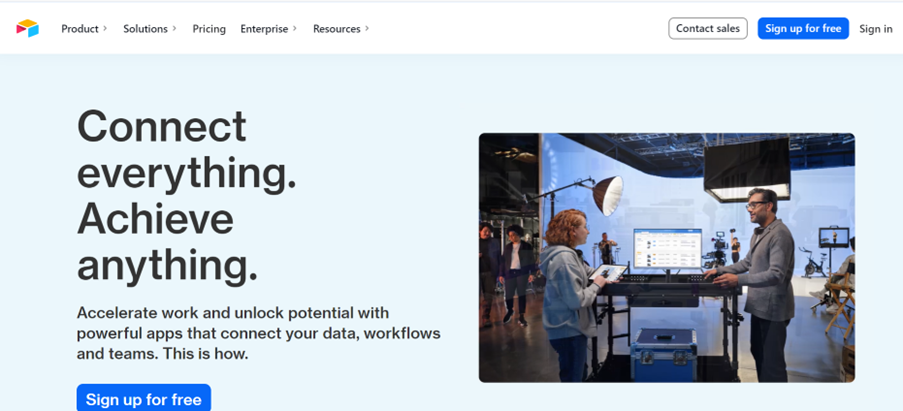 Airtable takes data organization to the next level. Apart from just being a basic spreadsheet, Airtable can also be switched to a Kanban, calendar, form, or gallery view to visualize data.
With a highly customizable interface, users can also create primary relationships between data sets present within each base or table. 
It can also help create automatic routines or convert your data into a form in case you want to post it on your socials. 
Apache OpenOffice 
Apache OpenOffice is an open-source suite that offers free basic spreadsheets. The spreadsheets support multiple file formats, including Corel Draw, Microsoft Publisher, Visio, and ODS files. 
Besides this, this software is entirely free and serves as a community for developers. Users can use several add-ons or plugins to enhance productivity and use the software better. 
Handsontable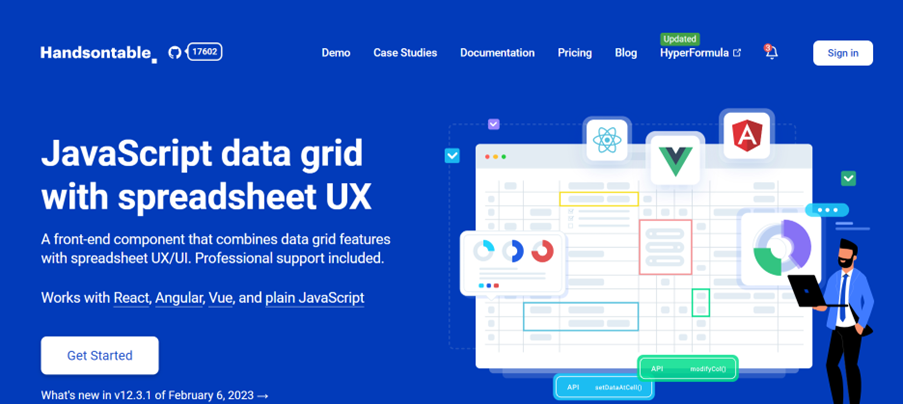 From the outside, this Javascript data grid looks precisely like Excel. However, unlike its counterparts, Handsontable comes with several custom features that can be accessed through different plugins. 
Users can also edit the source code and add large volumes of data to the sheet simultaneously. The software works at its best with no slowdowns, making it the best spreadsheet software for tech-savvy developers. 
Sheetgo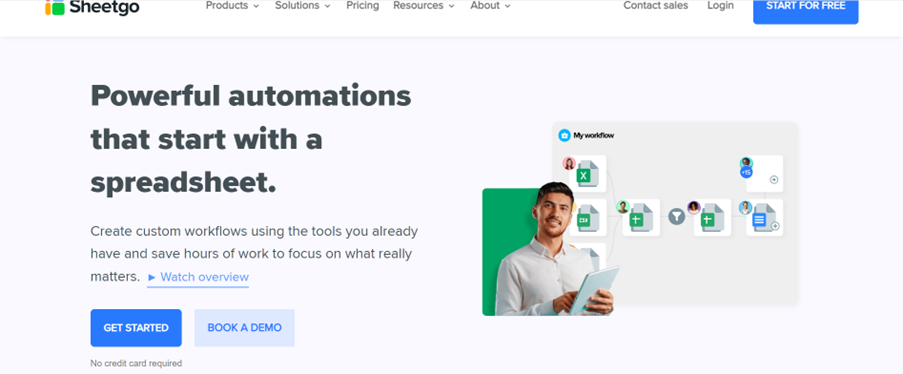 Not that tech-savvy, but still want to use a spreadsheet? Sheetgo can be a great option. Sheetgo is a no-code automation tool that helps collect, manage, and share data. 
Users can also create custom workflows within a familiar format. The platform allows users to connect remotely with other files and transfer the primary file to Google Drive.
This tool is generally used by remote employees who either want to transfer an entire sheet or a single column to their remote workplace. 
Smartsheet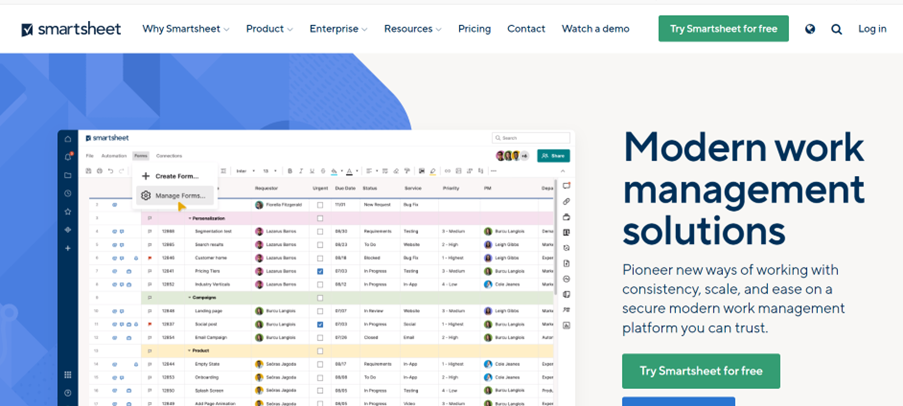 With an easy to navigate interface, Smartsheet makes it easier to allow team collaboration and create all reports in one place. The software also offers a unique form feature. 
This form feature can be used to create a short survey or a form and transfer it to your audience or other respondents. Once you receive responses, the sheet can automatically save the responses as a spreadsheet. 
Most companies use Smartsheet for metrics or pulling everything together. This helps them track the number and type of transactions with each client. 
Zoho Sheet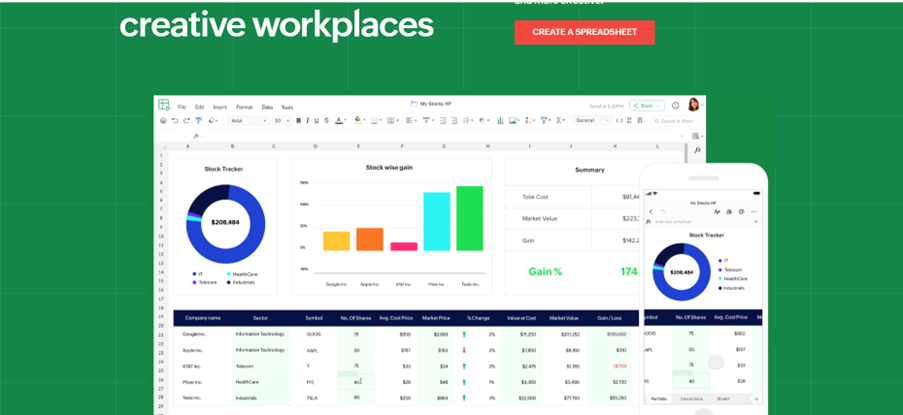 With 350+ features, Zoho Sheet is another impressive spreadsheet software allowing you to create features through minimal coding. Moreover, the platform can be easily integrated with Zoho Mail, thus making collaboration easier. 
Overall, Zoho Sheet is a powerful tool for users to collaborate on the same sheet and connect through a real-time chat feature. It also has an auto-save option that helps preserve past changes. 
ALSO READ: Top Data Collection Software To Use For Research 
How To Choose The Right Spreadsheet Software? 
Choosing the right spreadsheet software can get tricky with so many options. Here are some factors to consider when searching for the right software: 
Cost 
You can always opt for free spreadsheet software if you are going through a financial crunch. While they might not be as efficient as the paid ones, they can surely serve their purpose.
However, you may need to pony up a few bucks to access additional features if you want better functionality. 
Interface 
If we state the obvious, spreadsheets are already a bit complex. And choosing software with a hard-to-navigate interface is just going to stop you from accessing all prime features.
While all spreadsheet software might have a learning curve, make sure it is not steep. 
Functionality 
Features are here to make your work easier. So, when it comes to picking spreadsheet software, think about how your team will use it. Consider different use cases and accessibility of the features.
Remember, features should be easily accessible for a better workflow presentation. 
Collaboration 
With most companies shifting towards a remote work model, you must pick software that offers some basic collaboration features.
Moreover, you must also ensure that they use the latest version so everyone stays in sync with the new features. 
The Takeaway 
Picking the best spreadsheet software is easy. Just keep in mind your requirements and the required features. Moreover, while you have many options to choose from, you must factor in the above key points to pick the right software that meets your goals.  
Ready To Future-Proof Your Business?  
Sign-up for a FREE account and get a sneak peek into our intuitive survey dashboard panel. 
Free Trial • No Payment Details Required • Cancel Anytime