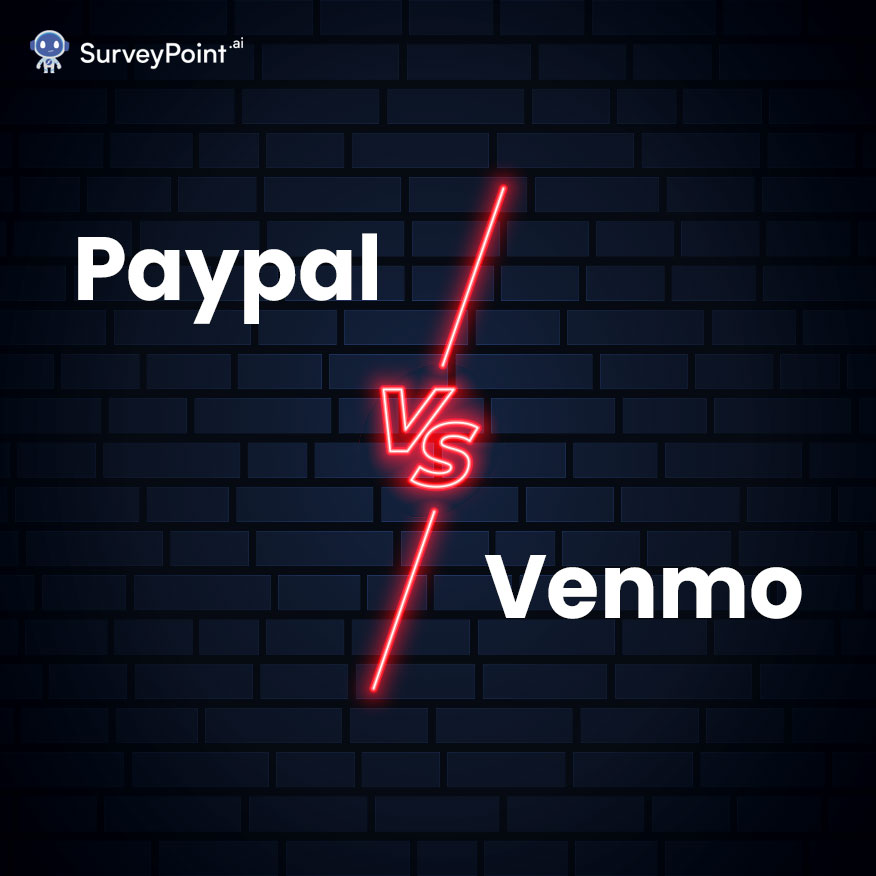 Confused about Paypal vs Venmo? Both platforms are popular payment applications that make online transactions easier. PayPal was founded in 1998 to allow online e-commerce businesses to make online transactions easier and more secure. Venmo, on the other hand, was founded 11 years later to ease daily transactions with your friends or families. 
And, though there are several ways these two platforms overlap, we are here with the key differences. Read on to explore how Venmo and PayPal differ and which one you should choose. 
PayPal vs Venmo: Key Differences 
| | | |
| --- | --- | --- |
| | PayPal | Venmo  |
| Platforms  | iOS, Android & web | iOS, Android |
| Payment Modes  | Credit, debit, and bank transfer  | Credit, debit, and bank transfer  |
| Credit Card Fee | 2.9% + $0.30 | 3% |
| Debit Card Fee | 2.9% + $0.30 | Free |
| Bank Transfer Fee | Free | Free |
| Transfer Limit  | $60,000, with a $10,000 limit per transaction  | $4,999.99 |
| Withdrawal Timeframe | 3-5 business days  | 1-3 business days  |
| Fee | Free to use  | Free to use  |
| Best For | Business merchants  | Everyday users  |
| Availability  | 200+ countries | US only  |
What Are PayPal & Venmo? 
As many of you know, PayPal and Venmo are digital wallets allowing users to send or receive money easily. These apps store your payment information securely and allow for electronic purchases. 
Moreover, both allow users to link multiple bank accounts or credit cards simultaneously. While both offer almost identical services, PayPal is more about acting as a secured payment gateway that also offers credit cards and business financing options. 
Venmo, on the other hand, is another online payment portal usually used for its instant transfer feature. While Venmo is available only for users living physically in the US, it is comparatively faster and easy to use. 
ALSO READ: Make Your Online Payments Easier With These Venmo Alternatives 
How Do These Apps Work? 
PayPal and Venmo allow you to make payments by either accessing the funds from your liked bank account or using existing funds in the app's wallets. Both apps offer these services through a mobile app or online. However, unlike PayPal, which allows users to send or request money through the web, Venmo users can only access this feature through the app. 
Venmo: Pros & Cons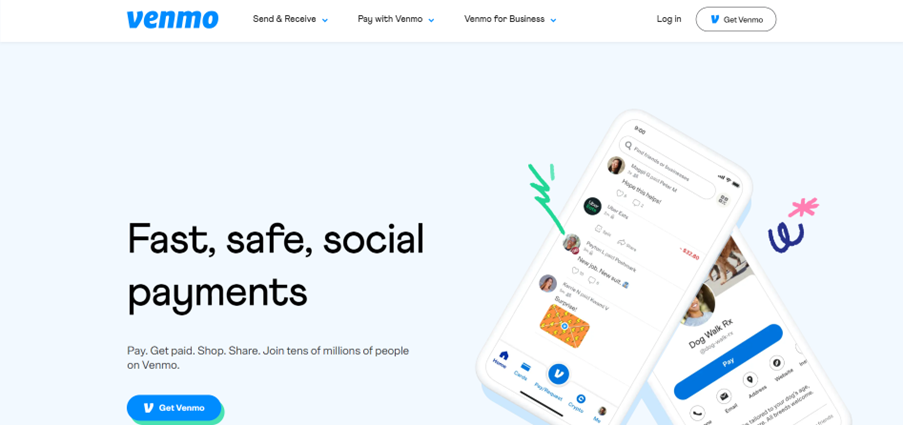 Here's what we like about Venmo: 
It is designed to send or receive funds almost instantly. 
There are no fees on debit card purchases. 
The app offers a cash-a-check feature. 
Here's what we don't like about Venmo: 
Only US residents can use this app. 
There is initially a meager transaction limit for new users. 
Retailers do not widely accept it. 
PayPal: Pros & Cons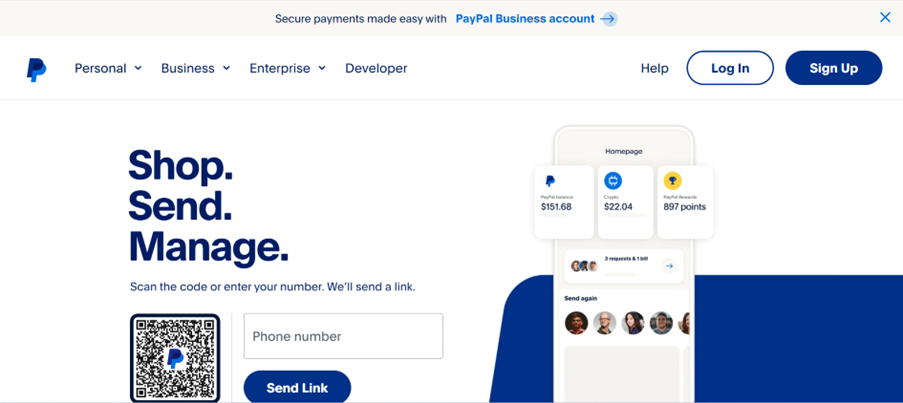 Here's what we like about PayPal: 
It is available in more than 200 countries. 
It has a higher transfer limit. 
It offers fraud and seller protection, making payments more secure. 
Here's what we don't like about PayPal: 
It has a higher transaction fee. 
You must have a PayPal Cash Plus subscription to access the cash-a-check feature. 
It charges extra on all debit card purchases.  
ALSO READ: Venmo VS Cash App: Which One's Better? 
PayPal vs Venmo: A Thorough Look At Differences 
Accessibility 
Venmo and PayPal can be accessed through their Native apps or a desktop. However, unlike Venmo, PayPal allows you to send or receive payments through the app or web browser. If you are using Venmo, you must use the app to make or receive transactions. 
Winner: PayPal 
Payments 
If we are talking about a basic sending and receiving money feature, both apps offer them. Moreover, both apps allow you to save some funds in your digital wallet or link your bank account to your user account. 
Initially, Venmo payments weren't supported everywhere. Only a few businesses accepted such payments through Grubhub, Forever 21, J. Crew, and Poshmark.
However, Venmo has recently allowed customers to make payments through touchless payment features using QR codes. PayPal, on the other hand, already has the same feature. 
PayPal users can activate their One Touch feature to make their transactions more accessible. This would allow them to enter all their PayPal information just once and make transactions with a single click with other participating users. This one-touch feature works well on mobile apps and desktops, allowing shoppers to scan their QR code directly. 
Besides this, PayPal is usually used by e-commerce or business merchants, which means this option has a higher transaction limit. The limit for a transaction can go up to $60,000, with a $10,000 transaction cap per transaction. 
Winner: PayPal 
Sending Money 
When sending money, PayPal has pretty impressive features. The transaction limit is $60,000. And the limit on every transaction is $10,000. For Venmo users, the transaction limit is just $299.99. And once verified, Venmo users can send up to $4,999.99. 
Moreover, to send money, PayPal users have to create a PayPal.Me link that can be shared with other users. Venmo, in this case, has better features. When sending money, Venmo users can directly send their funds to other users by typing their email addresses or phone numbers. 
Because Venmo was made to make transactions easier, it allows you to send or receive money quickly by picking up the meta information of the user's account. So, even though Venmo is just accepted in the US, it is a clear winner, especially if you want to transfer funds instantly. 
Winner: Venmo 
Depositing Checks 
PayPal has a feature where users can deposit their checks into their PayPal account using the app. However, they must sign up for the PayPal Cash Plus feature first. The company usually charges a 1% fee for payrolls and government checks. Other checks are subjected to a 5% fee. 
Venmo has a stunning new feature called Cash a Check. This allows the users to deposit their checks in their Venmo account by scanning their hard copy through the app's in-built camera/scan feature.
Users can get cash for checks within instants if the check gets approved. However, this feature is not available to all Venmo users. They would have to sign in to their account to see if they are eligible to leverage this feature. 
Winner: Venmo 
Business Features 
As stated above, PayPal is purely made for business merchants. Meaning it is loaded with several features that make your business transactions easier. Business owners can simply switch to a PayPal merchant account to send or receive money to other users. Retailers can also easily transact using a PayPal QR code scanner. 
Unlike Venmo, which is usually for individual users with everyday transaction needs, PayPal is a bit more diverse. It has a higher transaction limit and offers several payment types and options like POS (Point Of Sale) systems, billing agreements, invoicing, subscriptions, and virtual terminals. Moreover, it supports over 25 currencies and works in over 20 countries. 
By mitigating fraud risks through its advanced machine-learning skills, PayPal also protects businesses from reversals, chargebacks, and additional fees. 
Here's how PayPal protects buyers and sellers: 
Buyer Protection: 
24/7 monitoring 
Fraud prevention 
Full refund if buyer ships the wrong item or the item never gets shipped
Full refund if the items are damaged or the buyer receives a counterfeit version of the product they were trying to buy
Seller Protection: 
24/7 monitoring 
Merchant fraud prevention 
No chargeback in case of "Item not received" if the user claims with proof of shipment
No chargeback in case of unauthorized transactions. If the user claims confirmation of shipment
Winner: PayPal 
Additional Features 
PayPal offers various services other than just sending or receiving money. For starters, the app provides working capital and term business loans. These loans are based on the merchant's PayPal profile and do not require you to get your credit score checked.
With an undergoing PayPal loan, users can initiate automatic weekly payments. 
Moreover, once your loan application gets approved, the funds can be transferred within minutes. PayPal only charges a single fixed fee, which would entirely depend upon your loan amount or sales volumes. Depending on your past platform history, you can qualify for a loan of up to $500,000. 
Moreover, PayPal offers a digital credit line and credit cards that offer cash back. While Venmo can't compete in this area, it still provides physical cards. These cards can help you split bills and earn cash-back rewards. 
PayPal also allows users to buy, sell or hold crypto like Bitcoin, Litecoin, Ethereum, and Bitcoin Cash with PayPal cash.
Winner: PayPal
The Takeaway: Which One Should You Pick? 
Venmo and PayPal come with their own set of features. Here's what you should know to make your choice between PayPal vs Venmo easier. PayPal is designed for business merchants.
Venmo, on the other hand, is to ease up daily transactions like splitting food bills with your office friends. So, if you are keen on using some business features or investing in crypto, PayPal is your go-to option. However, if you want an app for daily transactions, Venmo has to be it.  
Want to streamline your online payments even further? 
Take a quick survey and discover the perfect payment solution for your needs! 
No Payment Details Required • Cancel Anytime