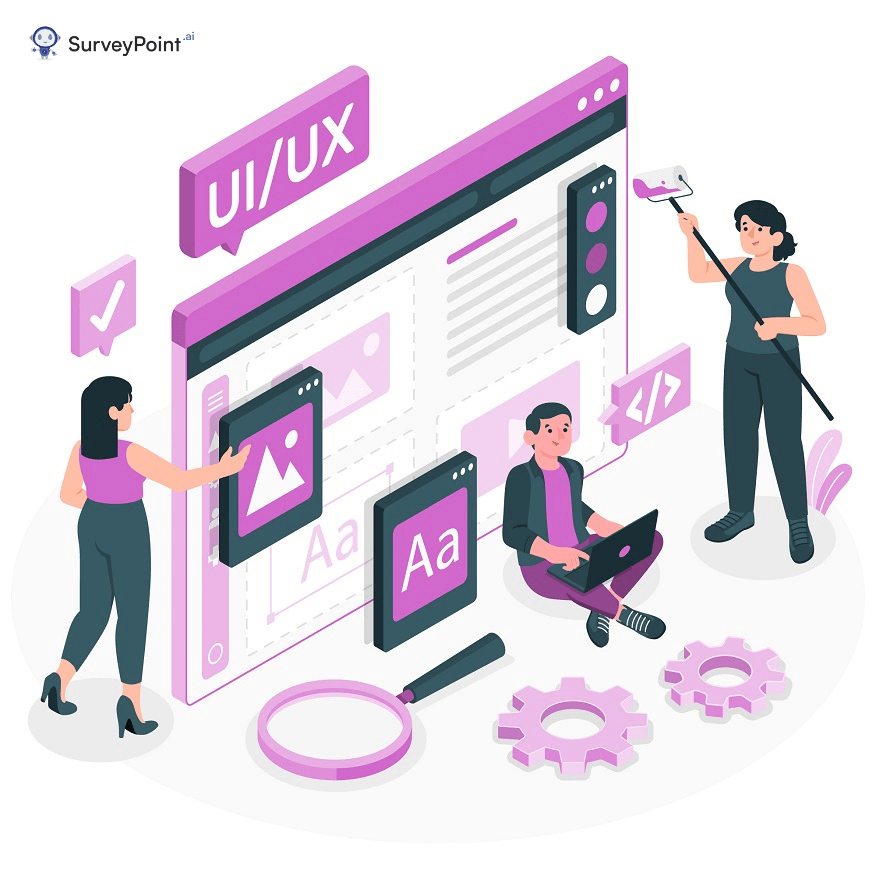 UX research tools are software or apps that help UX researchers gather user insights that are of great significance. Survey software, research software, and interview software are a few of the most commonly used tools these days in the field of UX research. Here is a list of the ten best UX research tools, whether you are a beginner or a pro.
The Best UX Research Tools to Use in 2023
As you proceed into the article, you will get your vision cleared by the comparisons and stats we have curated to ensure you get the best match for your requirements without assuming things, making blind conclusions, and, above all, wasting time.
You will get to see the following:
Description
Key features
Pricing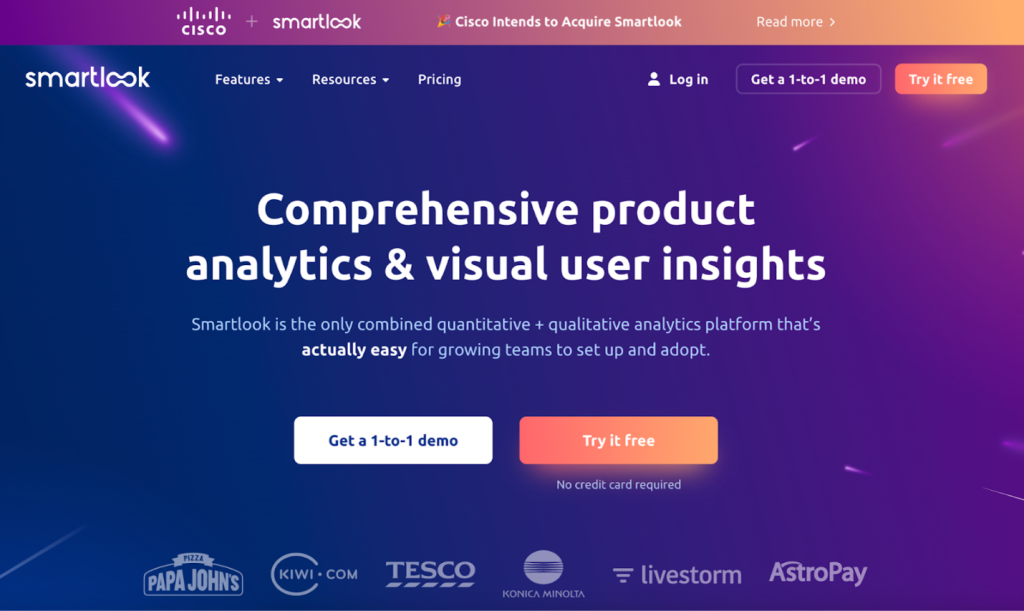 It is also a cloud-based and mobile-supported tool that constantly records user activities to get real insights and the reasons behind a particular user activity. This tool provides click, move, and scroll heatmaps, making your research more specific and efficient.
The key features include:
Cross-platform analytics to monitor the overall user journey
Click and scroll heatmaps
Always on session recording
Crash report feature to underline the issues that occurred precisely
Pricing:
Free plan- offers 3000 monthly sessions with one-month data retention.
Paid plan- starts at $71 per month.
It is a cloud-based software tool that provides everything you need for UX research.
The key features include:
Qualitative and quantitative data gathering
Moderation
Supports over 25 languages
Real-time chat and live interviews
Pricing: Consider contacting the sales team for prices.
It is stated as one of the best UX research tools of the present time. This software includes almost every element that can be called a survey tool, such as survey questions, numeric scales, this or that-type queries, and all other surveys that you can think of that might be in this tool.
This tool also provides audio and video recordings of users engaging in the tasks presented. It hardly leaves room for any improvement suggestions as it is mobile supported too.
The key features include:
Moderated and unmoderated insights
Target groups
Survey questions
Rating scales
Click maps, navigation tree testing, card sorting
Competitive benchmarking
Longitudinal testing
Pricing:
You must contact the sales division, which might offer you free trials.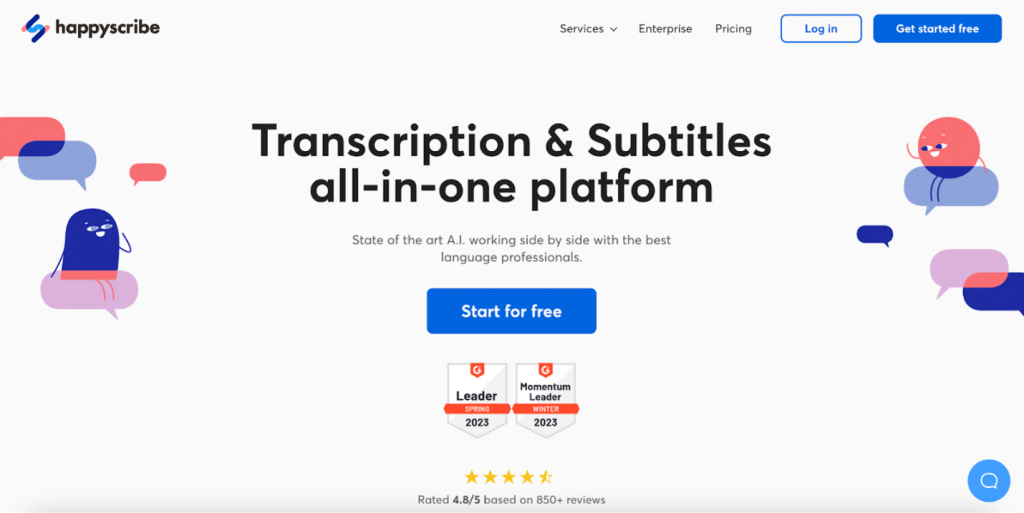 This tool proves its name as it helps you collect user insights, and in that course, its seamless third-party app integration makes everything breezy.
This tool provides you with a collaborative workspace to interact efficiently with all the stakeholders, and if that is not enough, you can choose the shared thing to be in viewer-only or editor mode. You can call this tool, too- the best UX research tool, at least for now.
The key features include:
Intuitive editor
Multiple export formats
Collaborative workspace feature
Automatic subtitles
Unlimited upload size
Pricing: The prices vary based on your choice of automated or manual transcripts and subtitles.
If you own an enterprise, then this one is exclusively for you. UserZoom tests prototypes and websites, keeps track of remote testers' activities, and can also conduct market research. Its participant recruitment feature makes it engaging.
The key features include:
Usability testing
Market research
Participant recruitment
Interviews
Pricing: No free plans are available; plans start at $70000 per year.
It is also a potential option to look for while sorting the best UX research tools. You get various test methods with specified tools for tasks like card sorting, tree testing, user interviews, and surveys.
It can be assessed by more than 50 million participants with various targeting options. This tool is reputed for its excellent visualization features.
The key features include:
Analytics and visualization features
In-app recruitment panel
Tools like card sorting, first-click testing, and tree testing
Surveys and qualitative research
Pricing:
Free plan- available with limited features
Pid plan-many options are available; the one with $166 per month is the most popular.
If you are looking for an easy-to-use comprehensive UX research tool, this option is the one you should look for. Loop 11 offers different tests, and the tool is entirely engaging for the users.
The key features include:
Heatmaps
Live website and prototype testing
Benchmarking
Pricing:
Free plan- not available
Paid plan- starts at $179 with a 14-day free trial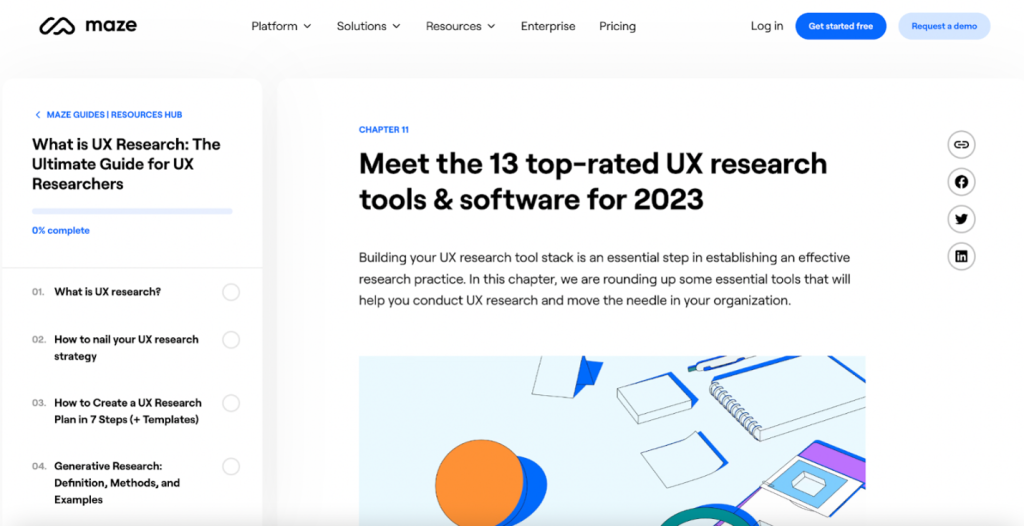 Although it has more basic features, Maze has been in the news lately among agile teams. Its multiple-user collaboration feature is its highlight. It is faster and has well-equipped tools that make it perfect to be used by teams to collect input and information regarding a product.
The key features include:
Quick, 5-second testing
Card sorting
Tree testing
Prototype testing
More than 70,000 user panels were used to recruit participants
Easy collaboration among agile teams
Pricing:
Free plan- available
Paid plan- $75 per month
This unique tool has a place on this list as it has features that might appeal to someone looking for a completely different type of UX research tool. This collection stores videos of interviews that give the most authentic and practical insights regarding their feelings and experiences while using a website or app.
The key features include:
Video-based insight collection
Moderated and unmoderated utility testing
Ideal for those looking for real-time reactions from the user
Pricing:
There are no plans; the prices are decided based on what you choose from the menu, whether you use their user panel or have your own participants, and what testing methods you use. Prices range between $30 to $120 per respondent.
It is a platform ideal for research participants. Created by researchers, this tool functions based on the fact that participants who are engaged in product development are the ones who are crucial for the development.
It helps you pay your participants through various means, such as Amazon, PayPal, and other electronic rewards, such as gift cards. Hence, no overseas currency issues for anyone.
The key features include:
A centralized database for all the research participants
Various payment options
Multiple time zone management
Easy scheduling
Pricing:
Free plan- a 14-day free trial is available
Paid plan- starts from $79 per month
Conclusion
UX research tools are designed to collect user experience insights to make a digital product better for their use. If you are looking for the best UX research tools this year, go through this article with your list of priorities, we are sure you will find one that is best suited for you.