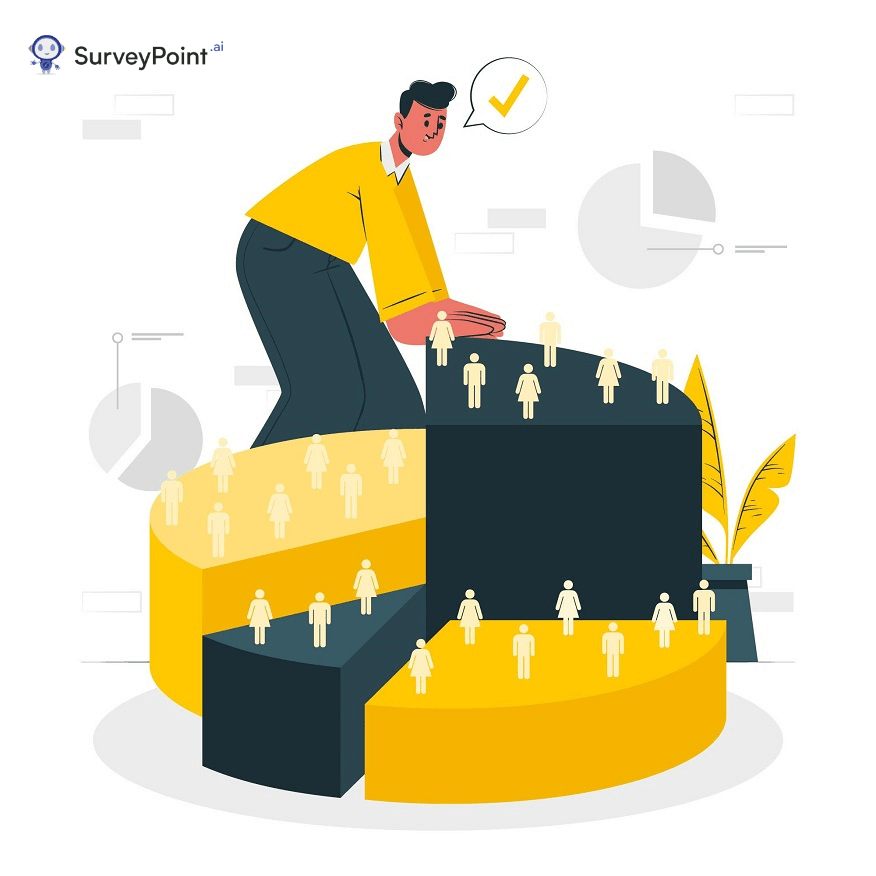 Market research in the business-to-business (B2B) sector presents distinctive challenges compared to consumer research, primarily due to the limited pool of potential respondents. In contrast to the broad consumer market, B2B research typically targets a relatively small number of specific companies, often numbering in the hundreds or less. Despite these challenges, in this article, we'll help you understand how to find survey respondents for B2B audiences is critical.
How Can Businesses Find Survey Respondents?
You can reach B2B audiences in the following ways, which are trustworthy and won't break the bank:
Understanding Your Target Audience
An individual or group that you hope to attract as respondents is known as a target audience. Therefore, answering the below questions will help you understand your target audience:
Who are the people you want to survey?
What are their characteristics, demographics, and behaviors?
What motivates them to participate in your survey?
Defining Your Survey Objectives
Clarifying your survey objectives is necessary after defining your target audience.
What research queries do you hope to address?
What knowledge do you anticipate gaining from the survey?
You can create a survey that is specific to your audience by having a clear understanding of your objectives.
Creating a Survey that Engages Respondents
Make sure your survey is straightforward and visually appealing if you want people to participate. Don't use jargon or technical terms; speak plainly and briefly. You should ask clear and simple questions. 
Utilizing Online Survey Platforms
A great way to find survey respondents is by using online survey platforms like SurveyPoint. Surveys can be made, sent out to a big group of individuals, and data collected in real time.
ALSO READ: How To Make Your Respondents Fill Out A Survey? 
Reaching Out to Professional Networks
If you're conducting a business or academic survey, contacting professional networks can be an effective way to find respondents. You can use professional associations, alumni networks, and business groups to connect with people likely to be interested in your survey.
Offering Incentives
Giving people rewards for participating in your survey can be a great incentive. Discounts on goods and services, cash rewards, and gift cards are a few examples. Ensure your incentives are relevant to your target audience and are offered transparently and ethically.
Recruiting from Panels
Another option for finding survey respondents is to recruit them from panels. Panels include a number of people who have agreed to participate in surveys in exchange for incentives or rewards. You can find panels through online survey platforms or market research companies.
ALSO READ: How to Conduct an Effective Audience Analysis for Better Communication 
Considerations to Find Survey Respondents in Particular Audiences
When it comes to reaching specific audiences, targeting through consumer panels can be an effective strategy for reaching professionals. However, the cost of targeting more specialized professionals may require direct outreach.
Healthcare professionals (HCP), particularly doctors as well as nurses, are on specialized panels, but the cost varies depending on their specialization and location. It is important to know that when you need responses from healthcare professionals, you pay a specific amount of money. The cost of the sample of HCP may change while you are collecting data.
When assessing the features and costs of enterprise software, developers and product managers often need to consult with business and industry leaders. You should seek out these individuals in your database, as online records may not attract suitable respondents.
Through online panels, it is typically impossible to gather responses from CEOs, board members, and C-suite executives of mid to large-sized businesses. Instead, looking for CEO surveys conducted by consulting organizations in human resource management is best.
They typically have enough personal connections with these people to have their contact information in CRMs. Be wary of sampling companies that say they have access to these populations via their proprietary panels or direct recruitment.
ALSO READ: Survey Data Collection: How to Get the Best Results? 
Summary
Finding the correct people to fill out your survey is crucial if you want accurate and useful results from your study.
In addition, leveraging online platforms, social media, and professional networks can increase your survey's reach and improve your sample's diversity.
Remember to offer incentives, use unbiased language, and use appropriate statistical methods to analyze your data. With these tips, you will surely execute your survey in a reliable manner and achieve the desired results.
FAQs
How many people will I need to complete my survey?
As a rule, a survey sample size ranging from 400 to 1000 respondents is appropriate for most survey types.
How do I ensure my survey is unbiased?
In order to make your survey unbiased, consider these tips:
Have a large enough sample size.
Be sure that the method you use to conduct the survey is uniform.
Use plain language rather than jargon and technical terms.
How do I select a survey platform?
When contemplating the selection of a survey platform, it is vital to factor in several elements.
Does it have the features I need?
Is it in my budget?
Will the respondents be able to use it easily?
Is it secure and safe for anyone to use?
Such questions can help you make a calculated decision for a satisfactory outcome.
How do I motivate respondents to participate in my survey?
By offering incentives to your participants, you can highly motivate them. These incentives can include cash, gift vouchers, or discounts on products or services.
Meanwhile, you could encourage them by pointing out how their work is helping many researchers gain a better understanding of the subject.
Interested In Sending Your Own Surveys? 
Explore our solutions that help researchers collect accurate insights, boost ROI, and retain respondents using pre-built templates that don't require coding.