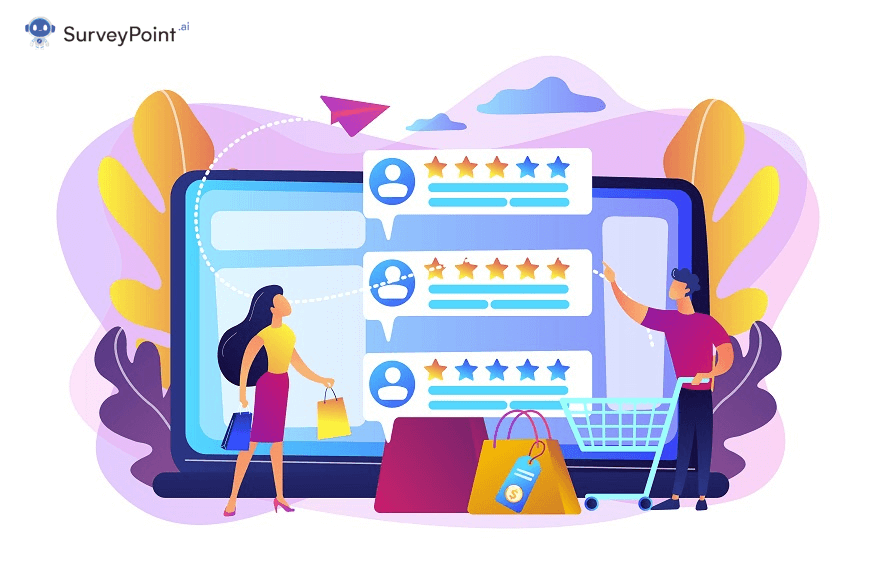 If a company succeeds with one set of products and then struggles with a subsequent set, it's likely because buyers weren't completely satisfied with the first batch. If this happens, it could cost the affected business a lot of money. Marketers now rely on client surveys before launching new product lines in enterprises to prevent any existential crises for the organization. A consumer survey is the most common yet effective way for companies to know their customers.
Every company wants to know what their clients or customers think about them and their products. It helps make real improvements and lays the groundwork for future projects. Therefore, all businesses should rely on consumer surveys as the gold standard.
An Overview of Consumer Survey
A consumer survey is a tool to acquire raw data regarding the levels of consumer satisfaction and opinions about a product or a brand. Consumer satisfaction is the most critical vector in predicting the brand performance metrics in the rundown of time.
The basis of any Business Intelligence is also dependent in part upon customer satisfaction numerics. Marketers rely heavily on consumer survey results to create a guard regarding a brand's reputation and leverage future growth possibilities.
On the other hand, with every business getting increasingly customer-centric, brands want to directly know the public opinion of their products or services and then come up with futuristic sustainable solutions. Therefore, consumers can directly let companies know their opinions and satisfaction levels via customer satisfaction surveys.
For a marketer— it is difficult to gauge what consumers think about a product or a company by only considering the sales statistics. The information gathered through consumer surveys bridged the gap and is used to prioritize necessary tasks.
NOTE
Business owners can't afford to find out how their customers feel once it's already hurting their bottom line. An organization must always think about how its products are being received in the present moment.
This allows businesses to make changes to their offerings before it's too late. In this way, a consumer survey serves as a link between management and customers regarding opinions and desires.
Take Action on the Learnings
You can learn about your customers' experiences and how to improve them by sending out one of our methodologist-approved customer satisfaction survey templates after a transaction or campaign. Some suggestions for questions to ask on customer surveys follow.
1. Explore the details and quality of their encounters to learn more.
It is essential to learn how simple and pleasurable your customers found their interactions with your firm to be, whether they did it over the phone, online, or in person.
Is it easy to navigate your website?
Did they get lost in the phone maze of your customer service department?
How helpful and pleasant was the salesperson?
These are the kinds of things you can find out by conducting a survey of your customers' experiences.
RELATED: Maximize Your Website's Success with Customer Feedback
2. Investigate potential up- and cross-selling avenues.
Conducting a poll among your audience can reveal what else they could be interested in purchasing. Use this information with effective upselling strategies to arm your marketing and sales staff with the knowledge they need to generate more successful transactions.
3. Keep your clientele happy.
The studies show that acquiring a new customer is 5x more expensive than retaining an existing one. Customers who are unhappy with the service they receive may never tell you why they went elsewhere.
What's worse, they might tell their friends and relatives about their bad experience, which might hurt your business even more. Discover the secrets to maintaining consumer loyalty through the use of a survey. To gauge customer satisfaction, try a Net Promoter Score survey.
4. You need to bring in some fresh customers.
Can new businesses be attracted by enhancing relationships with current customers? Sure!
Find out how to reach a new audience using a market research survey template. It's possible that your telephone consumers would prefer an online option or that they'd rather just call you.
People will talk positively about your business if and only if your clients are satisfied. You may find out where you stand with your clientele by doing a Net Promoter Score survey.
Consumer Survey Templates
To easily create effective consumer surveys, various templates are used by organizations. Here are a few such templates:
Customer Satisfaction Survey Templates
These consumer survey templates are designed to measure consumer satisfaction. Questions herein are meant to gauge the consumer experience and the level of satisfaction with a company's products or services.
Voice of Customer Satisfaction Survey Templates
The voice of a customer, which means their opinions and feedback, is critical for organizations to continue their business operation strategies seamlessly.
Companies incognizant of this voice pay a heavy price for their ignorance. Questions and samples in this consumer survey are designed to gauge opinions and feedback effectively from the consumers.
Product Survey Questions Templates
Companies use product survey question templates to entertain insights and consumer perceptions about a product. Questions and samples in this survey are intended to gather information specific to a product and to understand what improvements must be made.
RELATED: 10 Powerful Product Survey Questions for Better Insights
Service Evaluation Questions Templates
Service-based and product-based companies rely heavily on customer service to maintain their brand value and goodwill.
Service evaluation questions help organizations determine customers' feelings about their services and where they can improve. This makes the service evaluation questions survey a necessity for all organizations.
RELATED: Mobile App User Experience Survey: Meaning and Samples
Consumer Survey Questions Examples
Psychographic Consumer Survey Questions:
What are your hobbies and interests?
How do you like spending your time?
Do you place a high priority on any of the following?
Demographic Consumer Survey Questions:
What is your age?
What's your educational qualification?
Where do you stay?
Consumer Convenience Questions:
What are your favorite features of product X?
How easy was it for you to buy this product?
How has this product impacted your life?
Examples of consumer survey questions about purchasing patterns:
Who makes purchases in your household?
What's your budget for this purchase?
Do you prefer online purchases or offline store purchases?
Conclusion
A customer's opinion is vital to any company, no matter its size. What they say could be the difference between a profitable fiscal year and one that falls short.
Get feedback from your customers after you make a purchase or engage in another interaction about your service, responsiveness, brand awareness, and website quality. You can better serve your clients for the long haul if you know what they think about your business. This includes hearing about their experiences so you can improve your products and services.
Finding solutions doesn't have to cost a fortune. The smart, low-cost tools are there for you to use. Not sure who to talk to or how to contact them? Consider utilizing SurveyPoint.
Want To Create an Eye-Popping Professional Survey?
Take advantage of all of the advanced features by signing up for FREE.
Free Trial • No Payment Details Required • Cancel Anytime