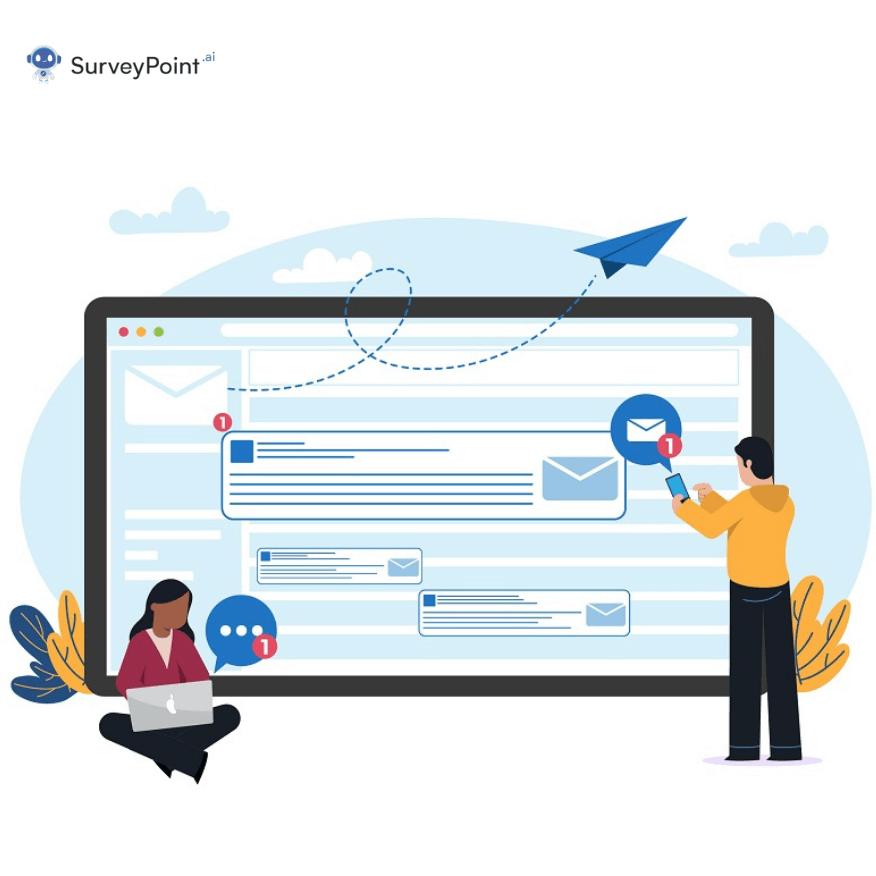 Want to collect customer feedback and get insights into your business? Getting inspired from survey email examples can help in keeping the ball rolling. Surveys are the most cost-effective ways to gather customer feedback in a quick timeframe. A business can reach a large audience through this method without any hassle or additional costs.
One can also make the customer survey email more effective by opting for personalized communication. By sending survey emails to your customers, you can ask for their opinions and experiences with your products or services.
This feedback can help you improve your offerings, understand your customer's needs better, and ultimately enhance customer satisfaction. It provides deeper insights into the psychology of the customers and the impression a campaign or product made on their minds.
Refer to the Survey Email Examples below to find the one that compliments your organization's communication goals.
Customer Survey Email Examples
You can select from the plethora of customer survey email examples. Generally, a customer survey template would entail the following syntax.
Subject Line: Your Opinion Means the World to Us! Spare Us a Minute?

Dear [Name], 

Hope you're doing well. 

At [Company Name], we strive to provide the best customer experience and continuously work to enhance our customer experience. But we will need your help with it.

If you could you spare a moment to fill out our little survey, we'd greatly appreciate it. Honest feedback from you will help us improve our products and services. 


Sincerely,
[Name]

[Company Name]
You can also review these examples companies are employing to enhance their customer engagement.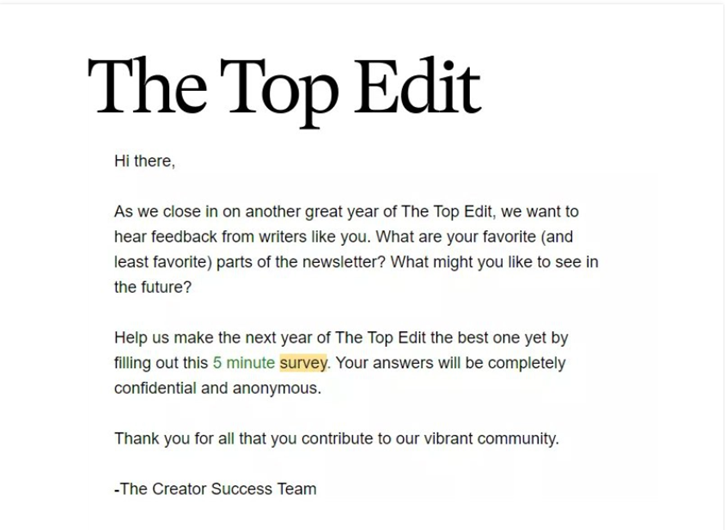 An innovative approach to reaching customers with the goal of getting them to take part in a survey or poll is to send them an email invitation. The survey can be used to collect research data or gain customer feedback and opinions about a product or service.
Businesses can engage a large audience using survey email invitations and receive fast, insightful, and real-time responses. You could use the results as a basis for solidifying their strategic planning.
Survey Email Invitation allows businesses to give a brief to the recipients of the survey on the significance of the study. A clear and intriguing survey email invitation would ensure a high response rate.
Check out the example below to learn how to entice the customer into taking your survey.
Subject line: You are on survey away from a Gift Card!


Hey [Name], We just wanted to convey we're lucky to have you onboard.

[Company Name] always goes far and beyond to make its members feel appreciated and heard.


Participate in this <link to survey> so that we learn about your thoughts and opinion on our [product/service].

In return, you'll get a gift card from us post the conclusion of the survey from your side.


Thanks!
RELATED: A Complete Guide on Types of Survey Questions
Survey Reminder Email Examples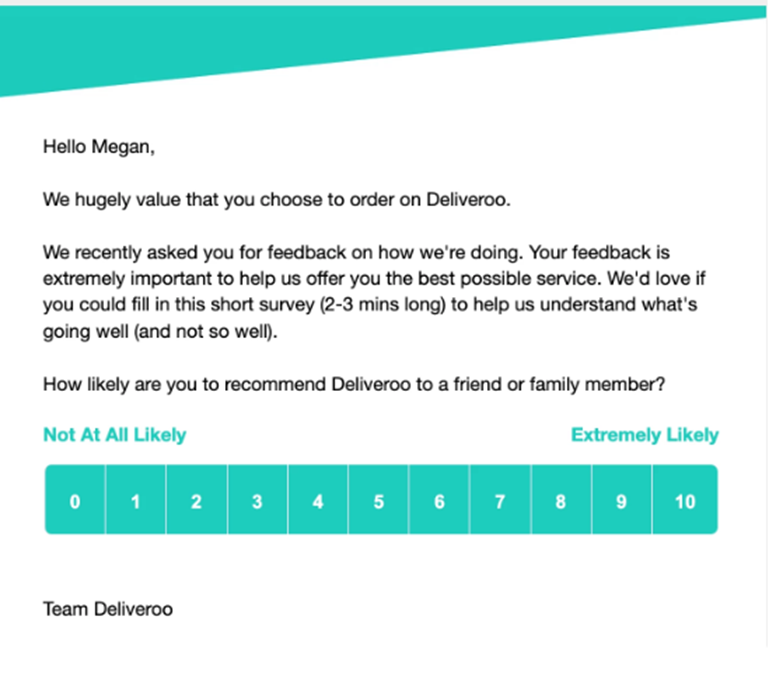 Often the customer might leave the survey halfway due to a variety of reasons. That's where the Survey Reminder Email comes into action. Survey reminder emails are automated emails that are sent out to remind people to conclude their surveys or polls.
A survey message can be sent at any point in the process, whether someone first signs up to take the survey or leaves a survey incomplete after the submission deadline. The emails can contain helpful links and other information to encourage survey completion.
Survey reminder email ensures that the customers have completed their surveys so that the businesses can gain an insight into their psyche.
RELATED: How You're Sending The Wrong Customer Experience Message 
Survey Feedback Email Examples
Respondents should be thanked and recognized when they have finished the survey they received in the mail.
Emails may summarize survey results or invite respondents to provide more feedback. The goal of these emails is to show appreciation for the respondent's time and provide them with an opportunity to share their thoughts and opinions.
Subject: Your Feedback Matters   

Dear [Name],   

Thank you for participating in our survey. Your feedback is crucial to our efforts to provide better experiences to our customers. Your responses will help us make sure that we're providing the best possible products and services.  

We truly value your input and appreciate your willingness to participate in our survey.  

Thank you again for your time and your feedback.   

Sincerely, 
[Your Name]
Subject: Your Opinion Counts   

Dear [Name], 
Thank you for completing our survey and helping us continually improve our services. Your responses will help us make sure that we're offering the best possible products and services. We value your opinion and are grateful for your participation in our survey.  

Thank you again for your valuable effort and feedback.  

Sincerely, 
[Your Name]
ALSO READ:  The Surprising Benefits of Conversational Feedback
Research Survey Email Template 
A research survey email template is a pre-written email that can be used as a focal point for designing a research survey for the responders.
The template typically includes questions related to a particular topic or research goal, as well as information on how to respond. Senders can customize their emails to ensure a more detailed response from recipients.
Conclusion 
Survey emails are an essential and cost-effective tool that can enhance the customer experience. The success of a survey largely depends on the response rate.
Survey emails should be personalized and engaging so that they clearly explain the survey's purpose and benefits. It allows the businesses to honestly communicate with the target customers so that the businesses can identify their pain points. 
Not Sure Where To Begin?
Explore our solutions to discover what is most important to your customers,
clients, and prospects. And best of all – it doesn't take any coding!
Free Trial • No Payment Details Required • Cancel Anytime