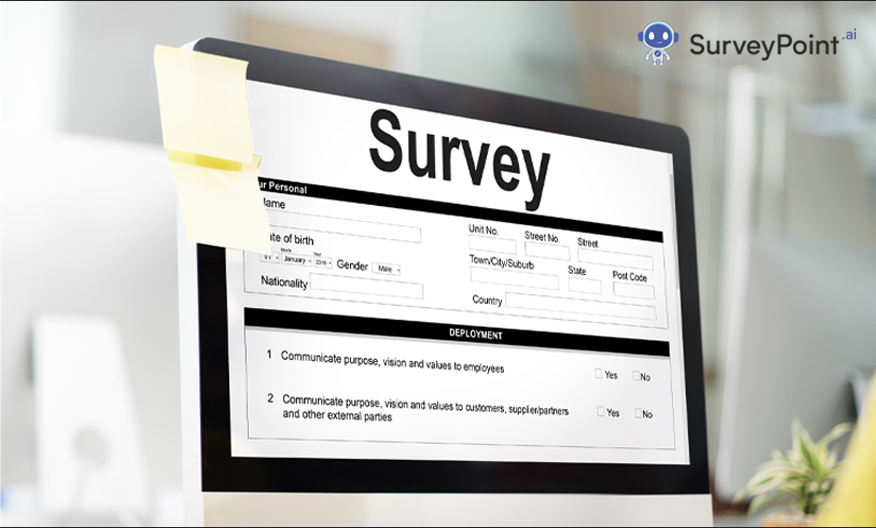 Are you curious about finding out more about what students feel about your current education measures? Conducting a college survey can be a great way to gather genuine student feedback and highlight the pinpoint areas that most students struggle with.
There can be a wide range of college surveys. It can be formal or informal, such as asking about campus experience and understanding where the college needs to improve in providing facilities like hostels. Some might focus on gaining insight into the standard of education students receive.
Conducting college surveys can be a smarter way to tap into all loopholes and analyze how students can gain better information.
If you're looking for the best college survey questions, buckle up! We've got you covered.
Read on to explore 20+ questions and how and why you should be conducting a college survey.
Different Types Of College Survey
College surveys can serve various purposes and are used by different stakeholders, such as students, faculty, staff, and administration. Here are some types of college surveys:
Student surveys
These surveys are conducted to gather feedback from students about their experiences with various aspects of college life. Student surveys may cover topics such as academic programs, campus facilities, student services, campus safety, housing, extracurricular activities, and more. By using student survey data, we can improve the overall student experience and make necessary changes.
Administration surveys
Senior college officials usually conduct administration surveys to gather departmental or program performance information. Among the topics covered may be budget, staffing, and strategic planning. The data collected from these surveys can inform decision-making and improve college operations.
Campus surveys
Campus surveys gather information about the overall campus environment, including the physical space, safety, accessibility, and more. The campus facilities or security department may conduct these surveys, and the data collected can be used to improve the overall campus experience for students and staff.
Coursework evaluation surveys
These surveys are typically conducted at the end of each academic term to gather feedback from students about their experiences in specific courses. Coursework evaluation surveys may cover topics such as the quality of instruction, the course materials, the workload, and more. These surveys can provide data that can be used to improve the quality of instruction and course design.
RELATED: Why Should You Consider Student Course Evaluation Surveys?
Benefits Of Conducting A College Survey
Conducting a survey for your students can help you understand what you need to work on and where you need to improve.
So, before we get into our question examples, let's look at why you should be conducting a college survey.
Identify areas for improvement
College surveys can provide valuable feedback about different aspects of college life, including academic programs, campus facilities, student services, and more. By utilizing this feedback, changes can be made to enhance the overall student experience by identifying areas for improvement.
Increase student engagement
By actively seeking their feedback, college surveys can increase student engagement and improve their sense of belonging to the college community.
Enhance communication
College surveys can facilitate better communication between different stakeholders, such as students, faculty, staff, and administration. Stakeholders can work together to improve the college experience by sharing survey results and discussing potential changes.
Measure progress
College surveys can measure the effectiveness of different initiatives and programs over time. By conducting surveys at regular intervals, stakeholders can track progress and adjust strategies as needed.
Support decision-making
College surveys provide data and insights that can inform decision-making, from academic programs to campus facilities to student services. Using survey results, stakeholders can make data-driven decisions that benefit the entire college community.
RELATED: Reading Interests Survey Questions To Asses Students
20+ College Survey Question Templates
Here's a list of 20+ questions you can include in your college survey.
Question 1: Based on these options, would you recommend this college to your friends, family, or acquaintances?
Extremely Likely
Likely
Neutral
Not Likely
Extremely Unlikely
Question 2: Are you happy with the current teaching methods followed by the teachers?
Very Happy
Happy
Neutral
Unhappy
Very Dissatisfied
Question 3: On a scale of 1-10, how happy are you with the current facilities provided by your college?
Question 4: Was the orientation process easy and exciting?
Question 5: Did you find it easy to obtain all the needed resources to study from the college library?
Question 6: Were the registration formalities overwhelming for you?
Very Overwhelming
Slightly Overwhelming
Neutral
Not Overwhelming At All
Question 7: Was it easy to register for the course in this college?
Question 8: How happy are you with the variety of food items and the degree of cleanliness in the college cafeteria?
Extremely Happy
Happy
Neutral
Unhappy
Extremely Unhappy
Question 9: Did you find the faculty members supportive in your initial days in the college?
Yes, they were accommodating
No, they are not supportive
Not sure what to say
Question 10: Do you think your college's safety is a safe place to live in?
Question 11: What is your opinion of your college hostel?
Very Crowded
Crowded
Somewhat Crowded
Not Very Crowded
Not Al All Crowded
Question 12: How happy are you with the teachers and their teaching methods?
Very Happy
Happy
Neutral
Slightly Disappointed
Very Disappointed
Question 13: Do you think the teaching staff is supportive when it comes to solving your doubts?
Extremely Helpful
Helpful
Neutral
Unhelpful
Extremely Unhelpful
Question 14: On a scale of 1-10, how likely are you to attend this college in the next academic year?
Question 15: How happy are you with the college's accommodations?
Extremely Helpful
Helpful
Neutral
Unhelpful
Extremely Unhelpful
Question 16: Would you pursue your next academic degree from this college if given a chance?
Question 17: Do you think your siblings or friends should pursue a course from here?
Question 18: Do you have a part-time job?
Question 19: How long do you spend in your part-time job?
I don't work part-time
1-10 hours a week
11-15 hours a week
16-20 hours a week
20+ hours a week
Question 20: What is your overall experience with your college?
Very Good
Good
Neutral
Bad
Worst
Question 21: Do you think we need to work on the quality and quantity of our extracurriculars?
Question 22: Do you think the college takes enough measures to eliminate racism and ethnic biases on campus?
Question 23: List the areas we can work on to improve your experience.
Pro Tip: Keep your surveys anonymous to gather real, accurate insights.
Conclusion
Asking this question at the beginning of the year allows you to create relevant and engaging lessons for your students. It's great to get your pupils thinking about their academic passions if you ask it near the year's conclusion. You can share students' responses with future teachers so their knowledge does not fade between the current and next year.
The college survey can significantly impact how well students learn. By asking the right questions, you can find out what's working in the classroom and what isn't. This will direct your attention to the most productive ways to enhance your teaching. The education of your students will improve as a result.
Want To Create an Eye-Popping Professional Survey?
Take advantage of all of the advanced features by signing up for FREE.
Free Trial • No Payment Details Required • Cancel Anytime