To create killer business strategies, you need more than just assumptions. You can devise strategies that benefit your team with better research and in-depth internal analysis. 
And, if you are wondering what precisely internal analysis is, we have got you covered. Learn what it means, how to do it, and different tools you can use to analyze your company better. 
Understanding Internal Analysis 
As the name suggests, internal analysis is analyzing your organization's culture. To comprehend how your firm functions and spot potential dangers, it is necessary to analyze and evaluate everything and everyone involved.
This technique helps you identify failures in your current strategies and understand the weakness of your company. Understanding this will enable better decision-making, strategy formulation, and implementation. 
In a nutshell, any business has a set of controllable and uncontrollable aspects. Internal analysis analyzes the internal factors that an organization can control. This allows the company to modify these aspects and improve how they affect the company. 
Why Conducting An Internal Analysis Is Important? 
Internal analysis can be a great way to identify the pain points and work collectively to improve a company's internal functioning. Other than this, this technique can offer the following benefits: 
It Helps Identify Strengths. 
Strengths are the quality of your team, availability of all necessary resources and effective brand recognition. This process allows companies to effectively identify and work on their strengths to pave the path to success. As a result, a company's chances of success can be increased. 
It Highlights Structural Weaknesses. 
Weaknesses in a company can arise due to several factors like improper employee training, using outdated technological resources and poor or inappropriate communication flow. 
You can drastically impact your company's success rate by heeding key pointers. Internal analysis can help you identify such weaknesses, thus allowing you to work on them and reduce their impact on your company. 
It Allows You To Tap Into New Business Opportunities. 
The internal elements of your company can help you determine your company's strengths. 
This can aid in the search for fresh methods by which to boost earnings. One possible conclusion from such a study is that introducing a new product would be beneficial to expanding your brand's market share.
You Can Identify Possible Threats. 
Generally, threats come from external factors. Identifying these external threats can help people optimize their business processes and eliminate their weaknesses, thus allowing them to succeed. 
It Helps You Stay Informed On The Viability Factor Of The Marketplace. 
One of this technique's best and most well-known benefits is that it helps you find your niche to grow. 
And, though it is a long-term goal of internal analysis, it can definitely help you and your business grow. 
Tools Used For Internal Analysis 
Now that you know what exactly it is, let's talk about how to do it. You can use several tools to gather the needed information and analyze your company's internal factors. 
Here are some tools that can help you with internal analysis: 
Gap Analysis 
Gap analysis determines the gap between your company's operations and goals. The wider the gap, the more you need to work on your strategies. 
Companies can use gap analysis to pinpoint weak organizational elements and work together to improve them. 
Management can also determine if the company is progressing towards its full potential by identifying specific departments that are not performing well. 
Strategy Evaluation 
This tool allows the company to determine the result and effectiveness of the strategies in motion. Companies should conduct a strategy evaluation before they launch their brand-new plan. 
You can evaluate your strategies quarterly or semi-annually to determine whether they are worthwhile. The objective of this evaluation is to assess the company's goals and assess its current performance. 
RELATED: Invest In Business Intelligence To Grow Your Business 
SWOT Analysis 
This is perhaps the easiest and most common internal analysis method. In fact, one of the best things about this tool is that it highlights internal and external factors at once.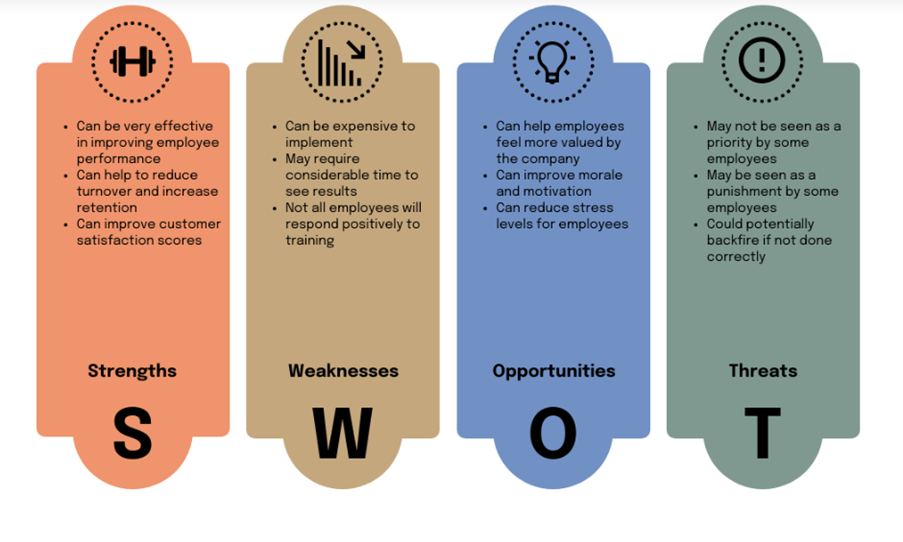 The tool contains four primary elements: Strengths, Weaknesses, Opportunities and Threats. 
A SWOT analysis allows the companies to identify their strengths and weakness, which are considered internal factors. This allows the team to work on what they can excel in and improvise where they lack. 
Opportunities and threats are external factors that companies have no control over. As you streamline your niche and highlight potential roadblocks, you will be able to tap into new opportunities. 
ALSO READ: Survey Data Collection: How to Get the Best Results? 
VRIO Analysis 
VRIO analysis is a framework for evaluating the competitive advantage of a company's resources and capabilities. The acronym stands for Value, Rarity, Imitability, and Organization.
Before anything else, the framework determines if the company's current assets and skills are beneficial. Then, it considers how common such resources are and whether or not they are shared among rival firms. 
The feasibility and impediments to imitating the resources and capabilities are also assessed. Finally, it considers whether or not the company can efficiently use its resources and strengths.
Overall, the VRIO analysis helps companies understand their competitive position and develop strategies to sustain or improve their advantage in the market.
OCAT
OCAT, or Organization Capacity Assessment Tool, is perfect for non-profit organizations that want to study their internal factors. It analyzes the following dimensions of a company: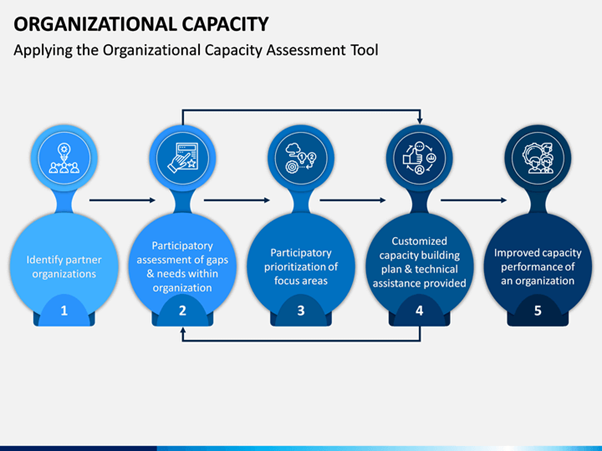 Business process
Advocacy
Communication and marketing 
Staff, leadership and board
Strategy and goals 
Funding 
Organization structure and hierarchy 
Values and culture 
Adoption and Innovation 
McKinsey 7S Framework 
The McKinsey 7S Framework is a model developed by the consulting firm McKinsey & Company in the 1980s. A successful organization must align seven interdependent elements. The seven elements are: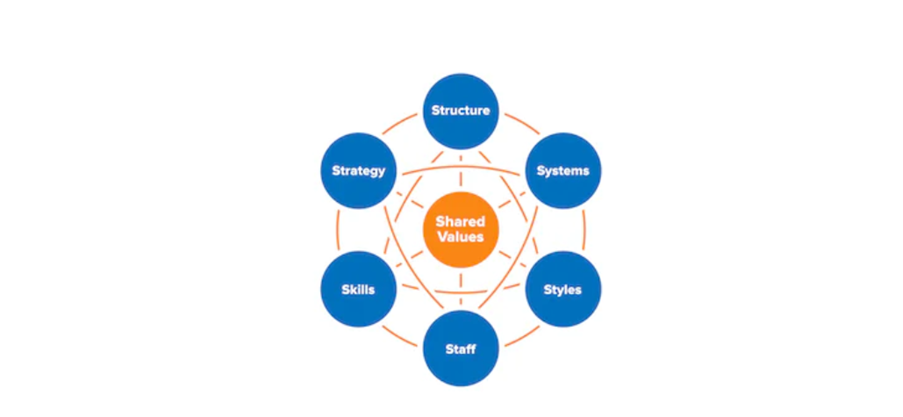 Strategy: The plan that outlines how the organization will achieve its goals.
Structure: How the organization is organized and the relationships between its components.
System: An organization's management and operation procedures.
Shared Values: The fundamental beliefs, values, and culture that guide the organization's behaviour.
Skills: What the employees are competent at and what they can do for the organization.
Style: Organizational management practices and leadership styles.
Staff: The people who work for the organization, including their numbers, skills, and experience.
According to the McKinsey 7S Framework, if an organization aligns all seven elements, it will operate effectively and efficiently and achieve its objectives. 
On the other hand, a misalignment in any of these elements can lead to poor performance and hinder the organization's success. The framework is often used to diagnose and address organizational problems, identify areas for improvement, and implement change.
Conducting Internal Analysis: A Step-By-Step Walkthrough 
Here are the steps to conducting an internal analysis:
Identify the company's objectives and goals.
The first step is to define the company's mission and objectives. These should be clear and concise and provide a framework for the analysis.
Evaluate the company's resources.
This step involves identifying the resources available to the company, such as financial, human, and physical resources. 
Identifying the company's strengths and weaknesses will be helpful.
Assess the company's capabilities.
The next step is to assess the company's capabilities, including its core competencies, areas of expertise, and competitive advantages. Differentiating the company from its competitors will be easier with this exercise.
Analyze the company's activities.
This step involves analyzing the company's value chain and identifying its primary and support activities. A company can improve efficiency and effectiveness by identifying these areas.
Identify strengths, weaknesses, opportunities, and threats.
The next step is to use the information gathered in the previous steps to identify the strengths, weaknesses, opportunities, and threats (SWOT analysis).
Prioritize issues.
After completing the SWOT analysis, it's crucial to prioritize the issues and opportunities identified. Therefore, we will be able to determine which areas need the most attention.
Develop action plans.
The final step is to develop action plans to address the issues and opportunities identified in the previous steps. Develop strategies to maximize opportunities, overcome weaknesses, and mitigate threats as part of this process.
To Sum Up 
An internal analysis is a critical component of strategic planning. It provides valuable insights into the company's strengths and weaknesses and helps identify opportunities for growth and improvement.
FAQs
Q1. What is internal analysis?
Doing an internal analysis involves taking stock of a company's resources, capabilities, and competencies to determine their relative value and where they might use the most improvement.
Q2. What are the key components of internal analysis?
The key components of internal analysis include:
Identifying the capabilities, competencies, and resources of a company.
An assessment of the organization's structure and culture.
Evaluating its financial and operational performance.
Q3. How can a company conduct an internal analysis?
Many techniques, such as the SWOT analysis, Value Chain Analysis, and Benchmarking, are available to businesses for an internal investigation. 
Data collection and analysis play a role in a number of these strategies, including financial reports, staff surveys, and market research.
Ready To Future-Proof Your Business? 
Sign-up for a FREE account and get a sneak peek into our intuitive survey dashboard panel.
Free Trial • No Payment Details Required • Cancel Anytime