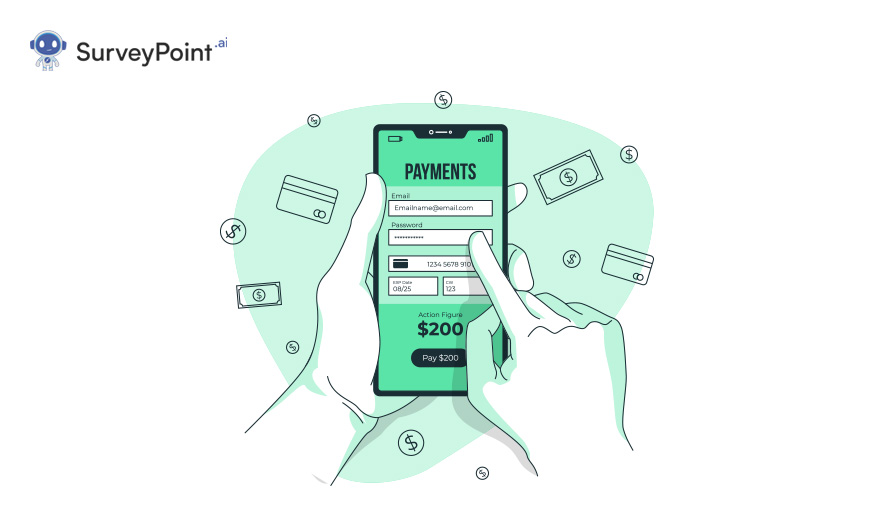 Wondering how to set up online payments for my website? Here's how you can get your business get paid.
To start with, if you are planning to develop a website with payment options, a lot of research will go in. From credit cards to eChecks, you can add several payment gateways on your website. And, if you are wondering where and how to get started, this blog has got you covered.
Read on to explore the best ways to take payment online.
What's A Payment Gateway?
If you are wondering how to create a website with online payment options, the most basic method is through a merchant account. You can also add a payment gateway to the website, like Authorize.Net.
Simply put, a merchant account is a business bank account that accepts payments through credit cards. A payment gateway, on the other hand, connects your merchant account with your website.
There are several payment gateways you can add to your website within instants. However, here's a list of questions you must ask yourself to choose a payment gateway solution:
What are the transaction fees of the payment gateway solutions?
How can your payment gateway solution handle disputes?
What is the processing fee for different types of credit cards?
What are the different fees for back-office payments?
How good are their customer services?
What products or services can't be sold through a payment gateway? Like, some tactical weapons like guns and knives are not acceptable products for many payment gateways.
ALSO CHECK OUT: Paypal vs Venmo: Which One's More Advanced? 
Top 3 Payment Gateways You Should Go For
To reiterate, a payment gateway would connect your online store with your merchant account. You can either embed a checkout system in your website or redirect the paying customers to make a payment on the payment gateway's website.
They are pretty simple to set up. Below are some of our favorite options you can try out:
Stripe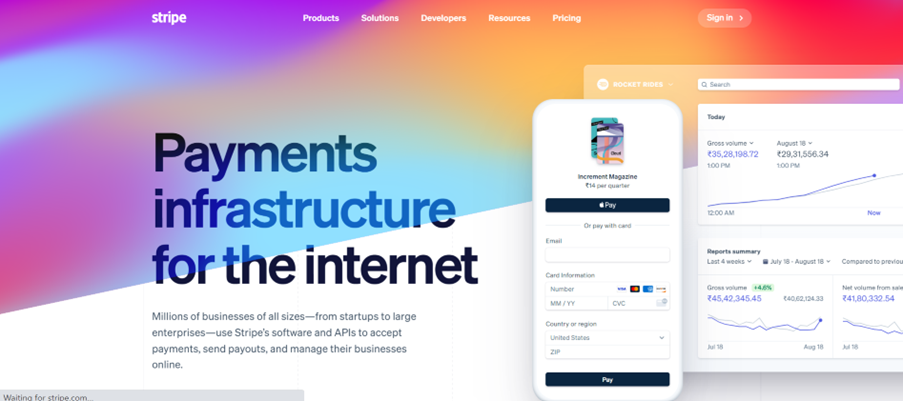 If you are a subscription-based business, Stripe is your best and most customizable payment gateway option. It lets you customize and embed a new checkout page on your website. This prevents the customer from being redirected to a new website, making online payments easier. This is how to receive payments online for free.
The best feature of Stripe is its billing feature. This feature allows you to set up one-off invoices and recurring bills easily.
Pricing:
Monthly Charges: $0
Setup Charges: $0
Online Traction Fee: 2.9%/transaction
Stripe billing Charges: Free for the first $1 M in revenue and then 0.4%.
PayPal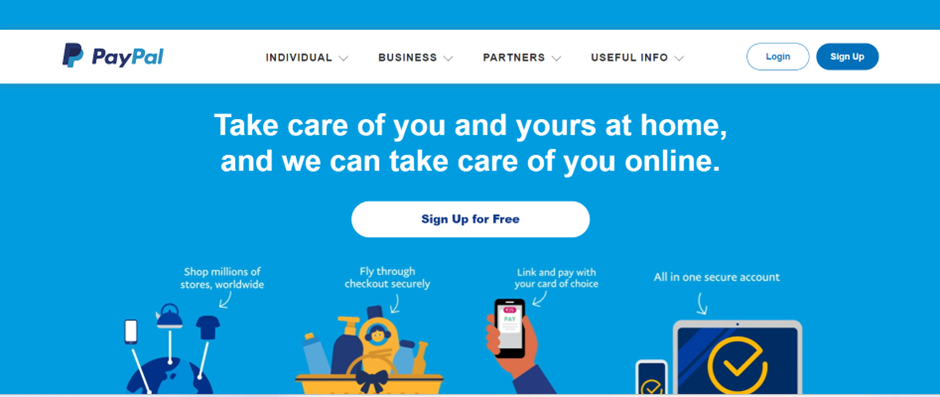 Money is in safe hands when it comes to PayPal. Apart from having that huge trust factor, PayPal's checkout systems can be easily added to your website at no additional cost. Customers can also leverage one-touch checkouts, making online payments even easier.
Pricing:
Monthly Charges: $0
Setup Charges: $0
Online Transaction Charges: 2.9%/transaction
Invoice Payments: 2.9%/transaction
Square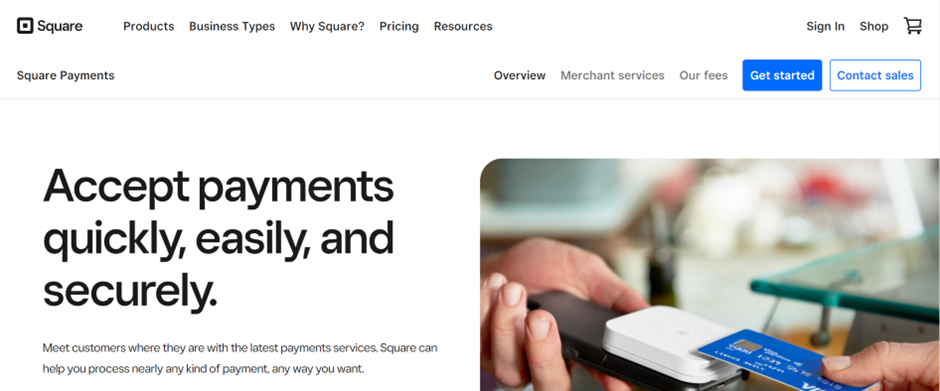 If you are starting from square one, this is your go-to option. It is simple to set up and affordable. You can even build a free website using Square Online. In short, you can develop a free website with payment options.
Pricing:
Monthly Charges: $0
Setup Charges: $0
Online Transaction Charges: 2.9%/transaction
Invoice Payments: 2.9%/transaction
RELATED: Make Your Online Payments Easier With These Venmo Alternatives
Methods For Accepting Payments Online
Here's a list of methods that can help your online store receive payments:
Accepting Debit & Credit Cards
Did you know that every American owns an average of four credit cards? Regardless of your e-commerce store type, credit or debit cards are the most basic way to accept online payments.
And for this, you'll need a merchant account. Also, if you're already receiving payments through cards in our brick-and-mortar store, you already have a merchant account.
Once the customer makes a purchase, the merchant account checks the availability of the funds. After the card association verifies this transaction, money is reflected in the merchant bank account.
Typically, money is held within the merchant account for a few days until it is deemed safe and valid. You can easily open a merchant account from any bank by paying a flat fee of $10-$30/month. Regarding credit cards, you should accept cards like American Express, Visa, and Mastercard.
Setting Up Direct Deposit
While this can be an option to accept payments online, it might not be an excellent option for an e-commerce website. Technically, the payee must authorize a business to withdraw the money from their bank account.
This is another reason online stores should always use debit or credit cards. In short, direct deposits can be a good choice for a website that accepts online rarely.
For instance, a government website received fines from people who broke traffic rules.
Using eChecks
If you want to add a payment option without dealing with cash or cards, this one's got you. eChecks are EFTs (Electronic Funds Transfers) that work precisely like paper checks.
In short, eChecks will deposit funds from the customer's bank account to your merchant account through ACH software. All the customer is required to do is enter their banking details into the form. ACH then processes this.
Integrating Mobile Wallet Payments
This is perhaps the easiest way to initiate easy online customer payments. Primarily everyone uses a mobile wallet app. And integrating this payment mode into your website will make your checkout process easier. As part of your long-term strategy, you should implement this.
Mobile wallet apps connect customers' bank details with their phones. This allows them to make payments within instants on a website. Research what apps the target audience uses and add them to your website. Some popular options in the US are Samsung pay, Apple Pay and Google Pay.
This option can be an excellent choice for e-commerce websites or other platforms accepting mobile wallets as the most basic way to receive payments.
Sending Email Invoices
Sending click-to-pay email invoices is relatively self-explanatory. All you need to do is send invoices through email. The customer can then pay the invoice in just a few clicks. This is one of the best ways if you are looking how to create a website with online payment.
You can also use software that automatically generates and sends your invoices to customers, saving up more of your time. Some of the most common invoice-developing software are Invoicera, Zoho Invoice, Ariba, and TimeSolv.
This software will also integrate your website, all invoices, and paying customers in one place, making the process pretty easier.
How To Make Set Up Online Payments For My Website Easier?
Customer usability is critical when integrating new payment options into your website. That option must be accessible, easy to use, and offer a good user experience.
In short, the easier it is to make a payment, the better your checkout system is. Several factors can affect your payment option's functionality. Here are some of them:
Use Multiple Gateways
The more payment options you have on your website, you will likely receive more payments. Also, if you have international customers, study your target audience and add the right payment gateway suited for them.
Get An SSL Certificate
Customers need to feel confident using your website when providing their personal and payment information. An SSL certificate verifies the security of your website and encrypts customer payment data.
Accept Payments Without A User Account
Eliminating the requirement to create an account is one technique to lessen friction in the payment process. Requiring someone to register on your website for a one-time transaction can end the deal quickly.
Require Only Necessary Details
Is the customer's phone number vital to complete the transaction? If you do, include a request on the checkout form; otherwise, you should skip it. It's usually preferable to request the necessary information to keep checkout straightforward.
Justify the demand if you do need further details. If you ask for a phone number, for instance, you may explain that you'll only call if there are any questions about how your purchase is being customized.
How To Set Up Online Payments For My Website: The Takeaway
Setting up online payments for your website is easy. All you need to do is weigh your options, study the features provided and try to make your checkout system as streamlined as possible.
Lastly, your primary focus should always be making online payments easier and safe for your customers.
Want to streamline your online payments even further?
Take a quick survey and discover the perfect payment solution for your needs!