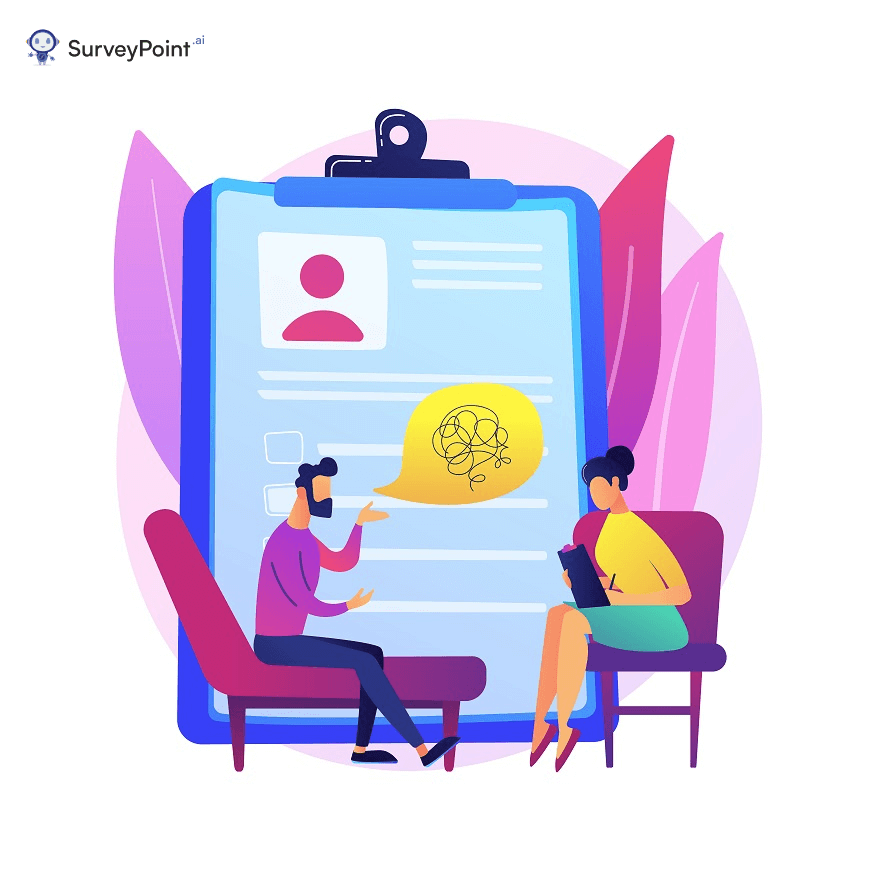 Psychology surveys allow a researcher to gather information about people's attitudes, beliefs, behavior, and experiences. Psychologists, mental health specialists, psychiatrists, and others develop and assess psychology survey questions to draw relevant insights.
Understanding people's psychology can help you get closer to the way they think and make decisions. This valuable information reveals essential nuances of your target audience and empowers you to influence their decisions, especially in the marketing landscape.
Today we will discuss how to select the perfect psychology survey questions with the help of some questionnaires examples. Read on to discover all about these survey questions in detail!
What are Psychology Survey Questions?
Psychology survey questions are primarily used to learn more about a responder and assess their mental health. These questions give the researcher the ability to classify various behaviors, attributes, and ailments.
Psychology surveys are crucial in the field of psychology as well as in market research. Consumer preferences, objectives, and buying behaviors can be learned through surveys, which can help with product development and marketing plans.
The creation of customer personas is a significant marketing use of psychological surveys. Customer personas are fictitious depictions of a company's ideal client.
Marketers can develop in-depth client profiles, gauge client happiness, and increase client retention by employing surveys to gather information about clients' views, beliefs, and habits.
ALSO READ: Getting Feedback That Matters: Crafting User Experience Surveys
How To Select the Perfect Psychology Survey Questions?
The researcher must frame or select the right psychology questions for the survey. Otherwise, the results may not match the objective of the survey and be misleading at times. This is why choosing the perfect psychology survey questions is essential.
Selecting the best questions for a psychology survey can be done simply. Here is an overview of selecting the right questions that align with your research objective.
SurveyPoint can help you build detailed surveys that are easy to float and fill. You can pick the most suitable template and customize it as per your specific requirements. This also allows you to gather large-scale data and visualize it effectively.
Define your study goal
First, you must ask yourself why you are conducting this survey.
What is the aim or purpose of your survey?
This will help you determine where to concentrate your efforts and which concepts will be most helpful for your survey.
Select your survey format
Defining your goal will also assist you in deciding the format you must use for your survey.
You can choose open-ended questions, different scales, or choice-based questions to include in your format. Leveraging a combination of all of these formats to gather the type of information you require can also be helpful.
Consider your respondents
The type of questions useful for understanding a young population's psyche may not be useful in discovering the psychology of senior citizens.
Thus, it is important to consider your respondents, try to gauge the group of your respondents, and examine their gender, age categories, profession, etc. You must also take into account how different people respond to surveys differently.
Use interesting psychology questionnaires
It is vital to use questions that are more creative and engaging. When you make interesting psychology questionnaires, there are higher chances that people will respond to them.
Use simple and effective language and include questions that also engage the respondents.
Take a look at online psychology survey questionnaires
There exist many interesting psychology questionnaires that are easily available online. You can browse one which has the same research motive as yours. It will give you a good idea about all the essential things you should include.
The process looks lengthy at sight but is very simple once you get started with it. Simply follow these steps and select the perfect psychology questions for your survey that intrigue your respondents.
ALSO READ: The ABCs of Designing Customer Satisfaction (CSAT) Survey    
Popular Psychology Questionnaires Examples
There are a variety of psychology surveys, including mental health surveys, satisfaction surveys, personality surveys, and depression surveys. For a better understanding, we are mentioning two specific sample psychology questionnaires here that will give you some deeper insights. One of them is a depression survey among adults, and the other is a psychology questionnaire for students.
The questionnaire below aims at the adult population in a major city, and the survey aims to analyze depression levels in adults.
Do you ever feel depressed or hopeless?
Do you live with your family or alone?
Are you currently in the city for a job or studies?
Have you lost a loved one or gone through a significant adjustment recently?
How frequently do you feel drained of energy?
Do you have trouble focusing or making choices?
Have you recently noticed a noticeable change in your hunger or weight?
Do you struggle with sleep or snooze too much?
Have you ceased to be interested in past interests?
Have you ever had feelings of shame or worthlessness?
​​
The following survey aims to understand how school students use social media.
Some of the most compelling questions that you can consider while creating a survey for students include:
How long do you use social media daily?
Do you ever experience social media addiction?
Do you occasionally step away from social media? Why, if so?
Do you have a personal mobile phone or laptop?
Are you conscious of your daily screen time?
Psychology Survey Topics for College Students
College students who want to conduct psychological research or survey can use the following topics. They are highly relevant and can give significant insights into student behavior.
College students' coping mechanisms and stress management.
College students' perceptions of their bodies and their level of self-worth.
Sleeping patterns and habits of college goer student.
College students' perspectives on mental wellness and disorders.
College students use modern technology and social media.
ALSO READ: Free Student Survey Template To Copy
Conclusion
Selecting the perfect questions for psychology surveys is crucial. Sometimes it can be tricky and confusing. But following dedicated steps and taking ideas from famous psychology survey questionnaires will help you devise good and effective psychology survey questions.
This will further enhance your entire survey and make way for a larger audience response with relevant data.