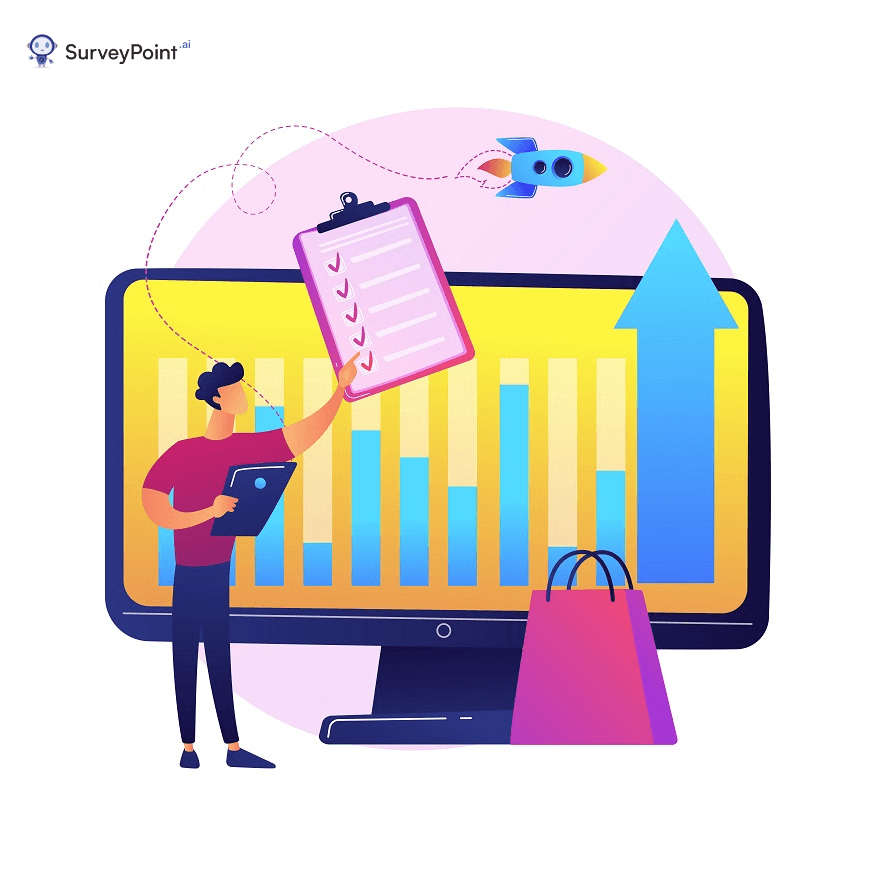 E-commerce is flourishing like never before. The days of simply going out and buying things are long gone. Today, everything can be done with a click, thanks to unparalleled e-commerce facilities. However, one thing that has lost its essence in the way of online buying is effective customer communication. This is precisely why e-commerce survey questions have become crucial for businesses to focus on.
An online store severely restricts your ability to communicate with customers. Client feedback and prior experience information can make a significant difference in advancing your company. You can leverage e-commerce surveys to learn how customers feel and acquire useful information about their preferences.
This information can be used to make well-informed decisions on the opinions of the customers who ultimately matter the most for a business. You can determine whether the website navigation or quality of your product and services needs to be enhanced or not.
These simple things can help you perform a lot better in a competitive market and have the potential to take your e-commerce to new levels.
How To Select The Perfect E-commerce Survey Questions?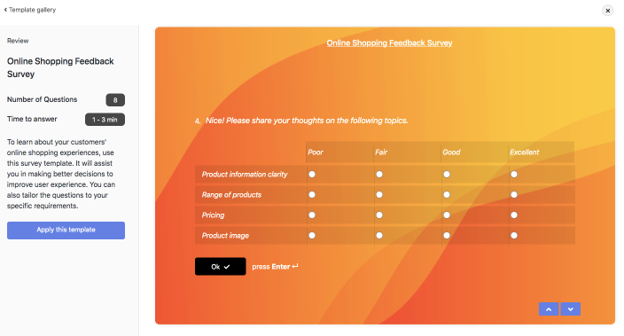 Finding the right e-commerce survey questions is the biggest hurdle online stores face. It doesn't matter whether you are starting a review system or already have one; you need to revise and update them at regular intervals to make the most of the surveys.
It is essential to put valid questions on the website that also match your survey's objective. Equally important are the options given as answers. They should be able to capture the response of different types of customers.
You can turn to SurveyPoint and build comprehensive surveys that best match your requirements. With different template options to choose from, you can easily get started with building surveys for your e-commerce business.
Feeling stressed by the thought that you will have to do a lot of research to form these e-commerce questions and answers?
Worry no more, as we have compiled some of the most crucial ones for you!
E-commerce business owners often have questions for their customers with different objectives in mind. To make it easy for you to understand and select the question you need, we have divided e-commerce questions to ask clients based on different purposes and objectives.
ALSO READ: eCommerce Businesses Questionnaire: The Significance of Online Shopping Surveys 
10 Must-Ask Pre-Purchase E-commerce Survey Questions
Not every visitor to your online store makes a purchase. A few of them simply wander the store before leaving. For the next time, make sure to better meet their expectations by finding out more about them.
Understanding, if customers are likely to return when they wish to shop online later, is also crucial. You can map the preferences of visitors to your website through these pre-purchase survey questions:
How satisfied are you overall with using our website?
Very Satisfied
Satisfied
Neutral
Not satisfied
Would you like to recommend our products to your colleague or colleague?
What type of product are you hunting for?
Did you get the exact kind of product you were searching for?
Exactly how did you hear about our company?
Television
Social media
Newspaper
For whom are you buying the product?
Do you plan to come back later and search more?
Are there any new services you want us to provide on our website?
Was our website easy to navigate?
Please evaluate the metrics below in comparison to other product/service providers.
Website Navigation
Product Listing
Product specifications
Pricing
Delivery options
Payments
Online assistance
ALSO READ: Maximize Your ROI with These Must-Ask e-Commerce Survey Questions
Top 10 Product/ Service Quality Questions for E-commerce Surveys
These survey questions for e-commerce websites will help you learn more about your customer's expectations for the quality of your goods and services, their level of satisfaction with it, and how they compare it with other companies products in terms of quality.
How happy are you regarding the product's quality?
What objectives can our service assist you to reach?
With your experience in mind, how would you define our product?
In your view, what are the top features of the product?
Do you think the pricing of our product is reasonable?
How can we further enhance our product?
We appreciate you buying our stuff! For what purpose are you buying it specifically?
How much of the following statement do you agree with? The features of [product name] satisfy my needs.
Rate the product based on the following characteristics: value for the money, durability, and usability.
In your view, are there any significant issues with the product?
ALSO READ: Unlocking the Power of Behavioral Segmentation: Types and Steps 
10 Important Post-Purchase Ecommerce Questions
These questions are asked when the visitors to your store successfully become your customers by placing an order. You can use this type of question to record their shopping experience with your company.
These survey questionnaire about online shopping are specifically used to find out the customer's problems while shopping and remove them.
Kindly rate your overall satisfaction with today's shopping.
Rate our goods and services on a scale of 0 to 10 based on your experience.
Did you get notified when our product that was out of stock came back into the store?
How pleased are you with the ability of our website to buy products?
What new product colors and sizes would you like to see moving forward?
Was the checkout process smooth and seamless for you?
At the checkout, could you get the preferred payment mode?
How would you rank the overall experience of checking out?
What nearly kept you from finishing your checkout?
How quickly do you think our website loads?
ALSO READ: 50+ Surefire Online Shopping Questionnaire To Boost Your Services
E-commerce Questionnaire For Retailers
If your website or e-commerce store has multiple retailers, it becomes important to know their opinion and experience to make the selling process smooth and easy. Here are some survey questions for sellers to increase the reliability and efficiency of your e-commerce.
Are you currently selling products online?
What e-commerce platform are you using?
How often do you update your online inventory?
What is your shipping and return policy?
How do you handle customer inquiries and complaints online?
What online marketing channels do you use to promote your products?
What is your average order fulfillment time?
Do you have a loyalty program or other customer retention strategies?
What is your average conversion rate for online sales?
How do you track and analyze your online sales data?
ALSO READ: How Buy Now, Pay Later is Redefining Online Shopping?
Conclusion
E-commerce survey questions can be the ultimate game-changer when gauging your customers' unique needs. It helps you spot the exact areas of improvement that directly lead to increased customer satisfaction. This approach may also provide you with a significant competitive edge since you are now a step closer to your end user.
Leverage these effective survey questions and witness a remarkable rise in your e-commerce sales!
Interested In Sending Your Own Surveys? 
Explore our solutions that help researchers collect accurate insights, boost ROI, and retain respondents using pre-built templates that don't require coding.