Analyzing Survey Responses With A Data Editor

Welcome to the SurveyPoint Data Editor! This powerful tool allows you to access all of your survey responses in a simple, organized format. With the Data Editor, you can easily view individual responses in a tabular form and even download the data as a .CSV file for further analysis. 

In addition, you can print out your results for a clearer understanding of your data. By using the SurveyPoint Data Editor, you'll be able to make informed decisions based on individual responses to your surveys. 

You can access the Data Editor in two ways:
You may either access Analyse from your main workspace page.


Alternatively, you can access Analyse by choosing the survey you'd like to analyze and then proceeding to Step 6.


You'll find the data editor under the Analyse panel.
Once you click on that, you will be able to view a tabular version of all the collected data.  Results from various questions are summarised in the table.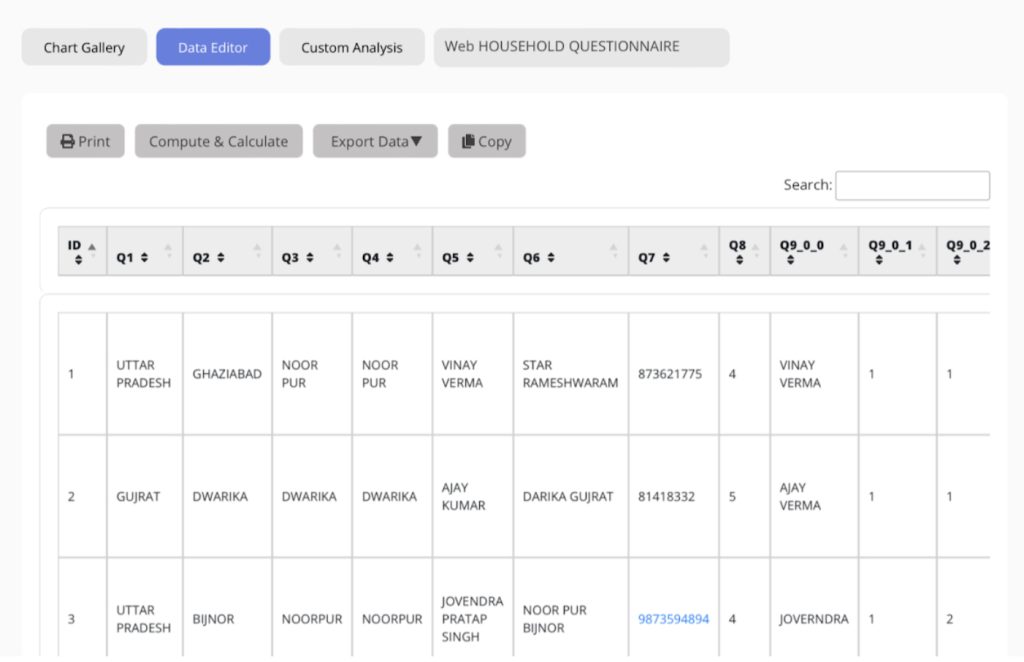 You can print this table by clicking on "Print."

The "Compute & Calculate" option is available for those who want to perform calculations. This button allows you to perform mathematical operations on the data within the table.

To download the data in a .CSV or PDF format, click on "Export Data."

In case you want to copy the data in a tabular version, click on "Copy." 


If you want to analyse the data of another survey, click on the Survey Title, located right below the top bar. 


Once you click on the title, simply select your survey from the drop-down menu. 


Hope that solves all your doubts. However, if you still have questions, we are here to help.

Write to us at connect@surveypoint.ai, and our team will connect with you shortly.