A little pressed for time? Feeling a bit lost for words? Need some assistance?
Quickly get started with a survey using one of our pre-made templates. Sample questions representative of the survey type are pre-filled in each template. You can use them "as is" or modify them to fit your specific needs.

Choosing the right template on SurveyPoint is as simple as browsing our template library.

To access our templates, Login>> Open your workspace. Once you do that, this is how your screen will look like: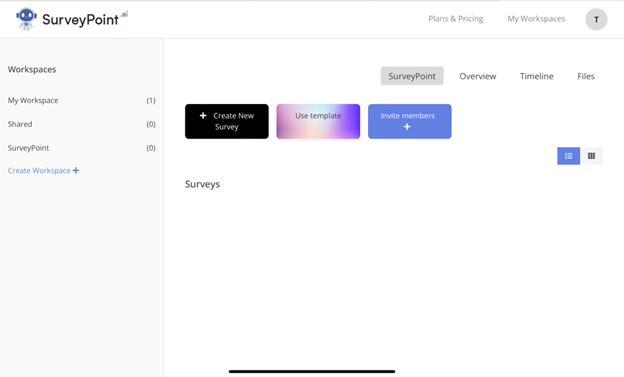 Click on "Use Template" to access all kinds of templates the platform has to offer.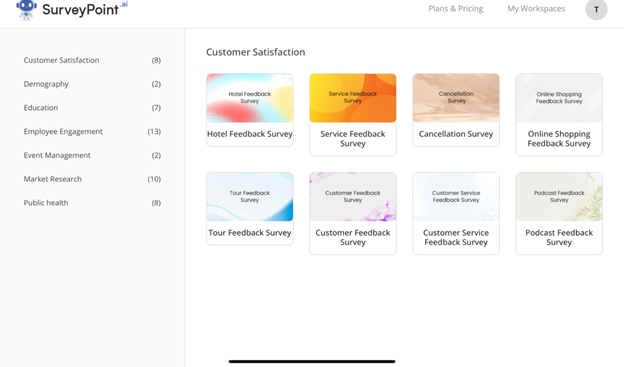 The platform offers diverse template options like customer satisfaction, demography, education, employee engagement, event management, market research, and public health.

Just browse our template library and select the one that suits your needs best.

By clicking on the template, you'll see how many questions it contains as well as general information about the template.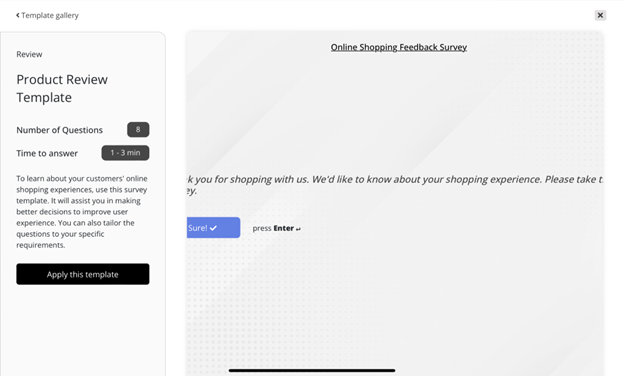 The platform will also let you know the filling time. To accept the template, click on "Apply This Template." Once you do that, a pop-up screen will appear, asking you to fill in the required details to build a survey.


Please fill in the requested details and click the Submit button.

Once you click on submit, you will be able to see an entire question list and a full-fledged survey that you can forward to your respondents. However, the survey can be modified if you wish to add your own touches.


In case of questions about navigating SurveyPoint, please contact us at connect@surveypoint.io. Our team will respond with a solution as soon as possible.